Node4-Giordana racing team launched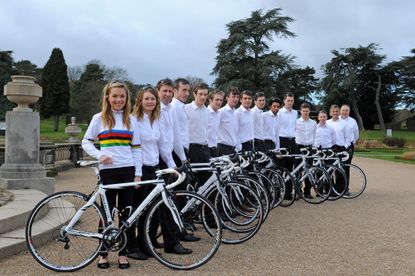 Node4-Giordana, a new British UCI Europe Tour team backed by Phil Griffiths, was officially unveiled this morning by Cycling Weekly.
Forming from the remains of the Motorpoint outfit, Griffiths will continue to run both a men's and women's team, with junior world road race champion Lucy Garner fronting the latter.
Malcolm Elliott and Bill Nickson will manage the new squad, while five of the line-up are survivors of this year's set up.
They assembled at Trentham Gardens in Stoke-on-Trent last Friday, although their official launch - along with a 10-day training camp in Tenerife - takes place next month.
After being photographed in front of the Perseus after slaying Medusa statue on the estate, Griffiths said: "We don't take scalps - we take heads!"
The teams colours will change slightly for 2012 to reflect Node4's role as title sponsor
Never in doubt
Motorpoint announced their withdrawal from the sport at the end of October yet despite this, and losing talented duo Ian Bibby and Jonny McEvoy to Endura, Griffiths always believed he would have a team racing in 2012.
Node4, a data solutions firm who have been involved during Motorpoint's two seasons backing a squad, step up to become title sponsor, with Italian clothing manufacturer Giordana becoming the secondary partner.
Subaru have signed a one-year deal to supply the team's vehicles while Pinarello will continue to supply the bikes.
"I can't believe how many people wanted to come onboard with us," Griffiths added.
Familiar faces
While Marcin Bialoblocki, Lee Davies, Andy Magnier, James Sampson and Pete Williams are retained, the six new riders joining for next year include Dave Clarke and James Moss, formerly of Endura Racing, 2010 Lincoln GP runner-up Philip Lavery and ex-Rapha-Condor and Raleigh man Matt Cronshaw.
Speaking about Cronshaw, Griffiths said: "Matt wiped the floor with us in the Blackpool GP in 2009 when Russ was on form, but he's not been managed properly in the past."
Griffiths also hailed the signing of New Zealander Rico Rogers, a former mountain biker who joins from Giant Kenda.
"Rico wants to go head to head with Cavendish at the Tour of Britain, it's as simple as that," he said. "He'll also be one for the Tour Series too."
Rogers is currently training for next month's National Criterium Champonships, and wasn't at the team's unveiling last Friday.
Node4-Giordana Racing 2012 team
MEN
Marcin Bialoblocki
Dave Clarke
Matt Cronshaw
Lee Davies
Kieran Frend
Matt Higgins
Philip Lavery
Andy Magnier
James Moss
Rico Rogers
James Sampson
Pete Williams
WOMEN
Alice Barnes
Lucy Garner
Sarah King
Harriet Owen
Hannah Shenton
+ One rider TBA
Griffiths believes Node4-Giordana will "take heads" in 2012
Garner and Harriet Owen alongside the men's team
Related links
Node4-Giordana team launch photo gallery by Andy Jones
Thank you for reading 20 articles this month* Join now for unlimited access
Enjoy your first month for just £1 / $1 / €1
*Read 5 free articles per month without a subscription
Join now for unlimited access
Try first month for just £1 / $1 / €1