Opinion: Jumbo boss's Saudi-backed revolution might just succeed where others failed
Many have failed to modernise pro cycling but perhaps big enough backing can make it happen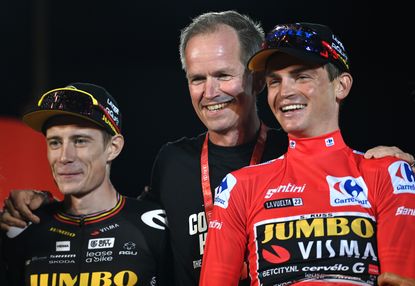 (Image credit: Getty Images)
You've probably heard the one about the all singing all dancing cycling mega-league before. The sport's history is littered with efforts to build it into something more glossy, more accessible, more financially sustainable.
There was the UCI World Cup, which Paolo Bettini won the final edition of in 2004. There were threats of a breakaway league in 2011 when teams became frustrated with the UCI. And the UCI's own aborted Classics Series, which was scrapped on arrival in 2019. All have failed.
The most recent example was pro-team organisation Velon's Hammer Series, an effort to put together a series of weekend-long events that would yield an overall champion team that was as lofty in its ambition as it was underwhelming in its delivery.
When news broke of Jumbo-Visma boss Richard Plugge and Soudal-Quick-Step owner Zdeněk Bakala's new effort then I was, perhaps like you, dismissive of its prospects. However, two key details have emerged that make me think it might just work this time.
Firstly, ASO are at least taking an interest, according to the Radio Cycling podcast. As the owner of the one race, the Tour de France, that makes serious money, their involvement is essential for any such scheme of work - the Tour very likely has to be part of it. Why might ASO give up some of its control/profit from its crown jewel? Because it knows many of their other races lose money and perhaps if it can change that it's onto a winner. After all, 49% (just say) of a very big number is still more than 100% of a much smaller number.
Secondly, touted potential backers Saudi investment fund PIF or venture capital company CVC Partners have the financial might to make something happen. In my opinion, the only way to make the kind of things Jumbo-Visma boss Richard Plugge and co are talking about viable is to have the entire calendar (of the biggest race) all controlled by one entity - that is the basis of F1 and most American sports' success. To do that you need a big cheque book.
While those are the two prerequisites there are other reasons to believe that it might work too. Principally, the unhappiness with Plugge.
While the Dutchman cuts an amiable enough figure in the paddock he is clearly a man who knows what he thinks and isn't overly interested if you disagree.
Part of the reason so many plans to modernise the pro racing business have failed is the inability to get the stakeholders on board - the UCI classics series wilted in the face of rider revolt, for example.
If you want something all encompassing there are at least three major race organisers to corral, 18 WorldTour teams, a governing body (itself made up of many other national and regional governing bodies all with competing interests) and the potential investors to get on board. Given the near impossibility of balancing those interests, Plugge's willingness to pursue something without even bothering to entertain getting everyone on board appears a strength not a weakness.
If you can get the major players on board, get it close enough to realise it's likely everyone else will eventually fall in line. Being a minor player in something is better than being an outsider to everything.
The biggest reason to doubt its viability, however, remains we know next to nothing about what such a venture would look like from a sporting point of view. If it's just business as usual with new logos it's difficult to see how an investor would find much growth in that to tempt them to open their weighty wallet.
But the kind of reconfiguring you would need to do to ensure the much-touted season-long narrative, so lacking from cycling and present in almost all other sports, would, in my opinion, require a pretty major house-cleaning of the calendar. I would contend that the star riders are a bigger draw than the teams (which don't have the benefit of clear and continuous history of most team sports). If you're to construct it around that then you need them racing each other at each event.
The issue is the current WorldTour calendar makes that completely unsustainable. Any series constructed with that in mind would likely leave the landscape of cycling looking radically different. Would that be a turn-off to current fans? Quite possibly.
There's a host of reasons it might fail but the first step on a path to success probably looks a lot like this.
Thank you for reading 20 articles this month* Join now for unlimited access
Enjoy your first month for just £1 / $1 / €1
*Read 5 free articles per month without a subscription
Join now for unlimited access
Try first month for just £1 / $1 / €1