Apple adds altimeter to the Apple Watch Series 3, actually making it useful to cyclists
Apple's newly announced Apple Watch Series 3 looks like it good be a well rounded tool for cyclists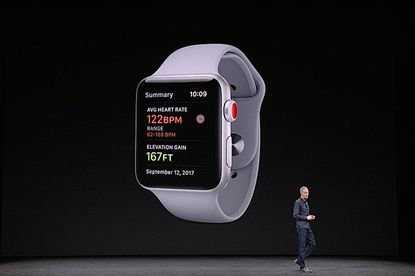 Last year's Apple Watch Series 2 added GPS, which was a major bonus for cyclists.
It meant far more accurate distance, speed and route information during rides, as well as the ability to follow mapped navigation straight from your wrist without the need to bring your iPhone along for the ride (even if it is a shiny new iPhone 8 or iPhone X).
However, the one disappointing omission that prevented cyclists leaving their iPhones on their bedside table was the lack of altimeter. This meant that to track your relative elevation the watch had to piggyback the altimeter in your paired iPhone, and bluetooth can be a real drain on the battery of both the watch and the phone.
Happily, that has all changed with the Apple Watch Series 3, as it now has its own barometric altimeter, which means all of your gruelling hilly rides will be captured in all their glory.
This will be particularly useful for those who want accurate Strava data (the app is available on the Apple watch) and to be able to correlate their heart rate data with the intensity of the route's gradient.
Watch: Five best apps for cyclists
The other major addition, and an even greater reason to leave your iPhone behind, is that the Apple Watch Series 3 now has support for cellular LTE connectivity.
This means it can make and receive calls, send messages and access data connectivity without the need for Wi-Fi or your paired iPhone.
>>> iPhone iOS11 update to include 'do not disturb while driving' mode
It uses an e-SIM and the same phone number is used across both the Apple Watch Series 3 and your iPhone.
Otherwise, all the great features of previous Apple Watch devices are there, including standalone apps for support for the likes of Strava straight from your wrist. You can still expect around 18 hours of battery life even if you opt for the cellular model, too.
The Apple Watch Series 3 was first released on September 22nd for £329 for the GPS model and £399 for the GPS + Cellular option.
Thank you for reading 20 articles this month* Join now for unlimited access
Enjoy your first month for just £1 / $1 / €1
*Read 5 free articles per month without a subscription
Join now for unlimited access
Try first month for just £1 / $1 / €1