iPhone iOS11 update to include 'do not disturb while driving' mode
Apple's Worldwide Developers Conference announces many new features and products but one will help all roads users to be a little bit safer it seems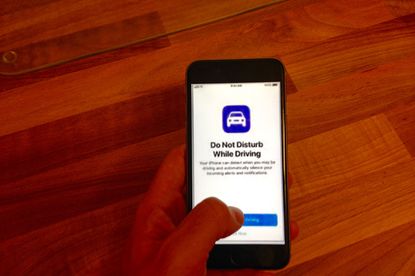 We don't usually take much notice of tech coming out of WWDC (Worldwide Developers Conference) but we've heard some good news concerning road safety from Apple.
All the info on the latest iPhone from Apple
The news comes in the form of the new big update from Apple and its IOS system, which goes to 11 this time around. It will include a 'do not disturb while driving' feature that will be a safety benefit to all road users and not just cyclists.
This new feature extends the use of the existing 'do not disturb' option that can be accessed by the settings screen. The 'do not disturb while driving' setting will be able to detect when you are driving and disable your phone from use according to Apple.
It does this by using a number of already built-in features on the iPhone such as Bluetooth connection, wifi doppler effects (for cars with wifi) and accelerometers.
>>> 17 best cycling apps: iPhone and Android tools for cyclists
Detection will blank the screen and divert all incoming messages, calls and notifications to eliminate as much phone distraction while out on the road.
It can even send a message on your behalf by sending "I'm driving" without you doing a thing, to at least let your caller know you haven't ignored them for no reason. You'll also be able to use sat nav features and you can edit to allow select contacts to be able to bypass this feature.
>>> iPhone 7: which of its new features are good for cyclists?
Bus, train or car passenger users can of course disable this options, as can the driver (as it is an selective option) though it is a little trickier than just pressing a button if engaged.
It'll remind you that it is in the 'do not disturb while driving' mode but after a second push will let you fully access the phone whilst on the move.
Of course, this isn't ground breaking technology and many will choose not to use it but we feel it's a great set in the right direction for road safety.
Thank you for reading 10 articles this month* Join now for unlimited access
Enjoy your first month for just £1 / $1 / €1
*Read 5 free articles per month without a subscription
Join now for unlimited access
Try first month for just £1 / $1 / €1
Symon Lewis joined Cycling Weekly as an Editorial Assistant in 2010, he went on to become a Tech Writer in 2014 before being promoted to Tech Editor in 2015 before taking on a role managing Video and Tech in 2019. Lewis discovered cycling via Herne Hill Velodrome, where he was renowned for his prolific performances, and spent two years as a coach at the South London velodrome.