Casual cycling t-shirts from brands you haven't heard of
We cyclists all like to look great on the bike, but now with the help of some seriously stylish casual t-shirts we can look equally sharp be it sitting on the sofa watching the sport's biggest races or out on the town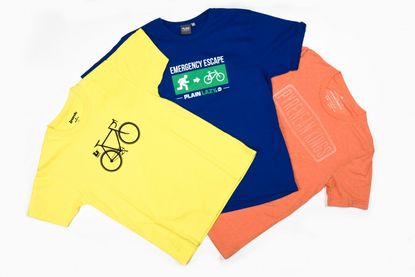 (Image credit: mike prior)
Bonk Athletic
£24.95
Although the name Bonk might raise some eye-brows, Bonk's cycling related t-shirts will get you noticed for the right reasons.
Bonk has three cycling themed t-shirts- two with a fixed wheel bike design and one with a time trial bike.
The custom fit feels good, allowing you to get away with moving up a size for a baggier feel or going with your normal size for a smart look. The print quality is good but could be a little sharper.
Lastly, the material feels nice, not too heavy while being thick enough to not snag easily.
www.bonkathletic.com (opens in new tab)
Plain Lazy
£22.00
Plain Lazy markets itself as being refreshing and cheeky. This is reflected in the casual t-shirts we received.
With the Tour de France on as we speak, the t-shirt saying "my other jersey is yellow" is particularly current. It is personal preference, but we prefer more of a gloss print finish than the one used for these t-shirts.
The shape of the t-shirts is more classic than custom, but still has a nice fit. The t-shirts are made out of 100% cotton and they feel like they'll last.
If you want a quirky cycling related pun on your t-shirt then these are the t-shirts for you.
www.plainlazy.com (opens in new tab)
Whitstable T- Shirt Company
£21.99 (£23.99 for the Superieur t-shirt)
Based in the Kent seaside town, the Whitstable T-Shirt Company has a nice line of cycling decorated t-shirts. The t-shirts are sourced from UK suppliers and printed on site.
The t-shirts have a nice cut, being long but not too wide. The material of the £21.99 t-shirts is light, so ideal for the summer months but you might prefer the sturdier feel of the Superieur t-shirt. Also, the washed out look of the print could divide opinion.
Especially during the month of July, the lightweight feel and unique decals of these t-shirts appeal.
www.whitstabletshirtcompany.co.uk (opens in new tab)
Thank you for reading 10 articles this month* Join now for unlimited access
Enjoy your first month for just £1 / $1 / €1
*Read 5 free articles per month without a subscription
Join now for unlimited access
Try first month for just £1 / $1 / €1