Could this automatic chain lube dispenser make your bike faster?
The Scottoiler Cycle S1 is an automatic chain lube dispenser that is designed to help optimise drive train efficiency. The product is currently campaigning on Kickstarter for crowd funding.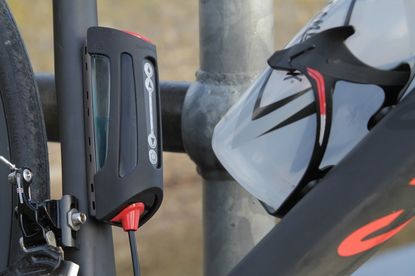 The Scottoiler Cycle S1 is claimed to be the first ever fully automatic chain lube system for your bike. The system is designed to be attached to your bike and automatically deliver the perfect quantity of premium fresh lubricant onto the chain exactly when required. The aim is to give "maximum performance and increased efficiency, making sure you get the best out of your bike."
>>> Wiggins's £6,000 Hour Record chain
The dispenser can be adjusted to dispense lube at different rates, depending on the conditions and length of ride. The system also features automatic activation, meaning it will only dispense lube when you ride.
The maker claims that the Scottoiler Cycle S1 is a "revolution in bicycle chain performance to maximise your chain efficiency in all riding conditions." It works by releasing the fluid from a reservoir attached to the bike's frame. A tube feeds the lube at selected intervals to the drive chain. The lubricant is dispensed onto the face of the jockey wheel of the rear derailleur.
The 'Scottoiler Speed Lube' used by the system is claimed to be easily removed with water, biodegradable and non-stick, making it easy to clean. The special lubricant is also designed to stop the build up of the 'black grinding paste' which is created as dust sticks to traditional lubes. This wears out chain pins and allows the chain stretch.
Ahead of a wet ride, cyclists often put extra lube on their drive trains. This can lead to a build up of dirt and decreased efficiency.
Overall the maker claims that its initial testing suggests there is a four Watt saving over market leading lubes. In a world of marginal gains this is significant, but it would require the unusual looking device strapped to your bike. Some bikes may require a hole to be drilled to route the lube tube too.
For more information and to see a video of the product in action, head over to the Kickstarter page here.
Thank you for reading 20 articles this month* Join now for unlimited access
Enjoy your first month for just £1 / $1 / €1
*Read 5 free articles per month without a subscription
Join now for unlimited access
Try first month for just £1 / $1 / €1