Dan Martin wears zipless t-shirt style jersey on the way to Tour de France stage six victory
Champion System jersey dispenses with zip for a lighter, more aero design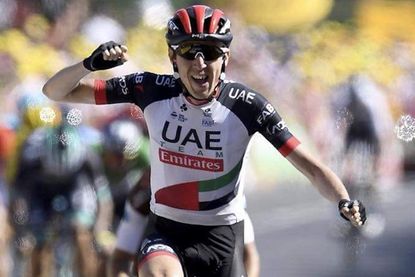 We're used to the sight of pros with their jerseys unzipped, exposing either their baselayer or pale chests with heart rate strap across the middle. That wasn't an option for Dan Martin when he won stage six of the Tour de France on Thursday, as his UAE Team Emirates jersey had no zip.
It's the latest twist in the never-ending quest for lighter, faster more aero cycling clothing. Made by Champion System, the team's kit provider, the jersey is yet to be released for general sale.
>>> Team Sky replace controversial "vortex" skinsuit with new design for Tour de France team time trial
According to Chris Reynolds, Champion System director of operations: "The feedback from the riders has been excellent. Dan Martin is very particular with what products he'll use in races, as he fully understands the demands and the benefits of certain products.
"As a brand we understand that this jersey will not be for everyone as it is a very specialized item, however, we strongly believe that what we make for the professional riders should also be offered to our clubs globally."
Made from Champion System's Agile fabric, the UAE Team Emirates jersey is called the Apex Lite. Champion System emphasises the products four-way stretch, giving a close fit for good aerodynamics. It says that all the team's riders at the Tour are using off-the-rack jerseys, rather than custom fit items.
>>> Are aerodynamic fabrics worth it?
Martin had had a kit change to a zipped jersey by the time of the podium ceremony. It will be interesting to see if UAE Team Emirates feel the need for a zip during the race once they hit longer, hotter climbs later in the Tour.
Whether zipless jerseys will catch on for the more general rider also remains to be seen. But with modern ultra-light fabrics and a low collar there's plenty of air circulation and you're probably as cool as you can get in hot conditions without needing to unzip at your throat.
Thank you for reading 20 articles this month* Join now for unlimited access
Enjoy your first month for just £1 / $1 / €1
*Read 5 free articles per month without a subscription
Join now for unlimited access
Try first month for just £1 / $1 / €1