Do we need 12-speed groupsets?
With SRAM having launched the first 12-speed mountain bike groupset and Campagnolo having filed a patent for a 12-speed road cassette, do we really need 12-speed groupsets for road bikes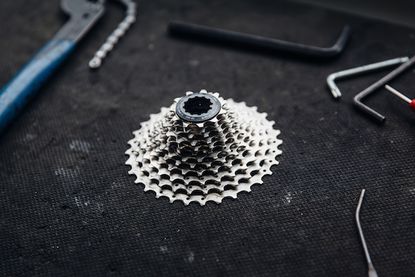 Over the past three decades the number of sprockets on a bicycle cassette has grown from six, to seven, to eight, nine, 10, and 11.
But the trend for more and more sprockets shows no sign of stopping, with SRAM release its 12-speed Eagle groupset for mountain bikes in 2017, and Campagnolo looking like it could be about to launch the first 12-speed groupset for road bikes according to a patent filed in the United States last year.
>>> Are single-ring chainsets the future?
The advantages of having more cogs in your cassette are relatively obvious: you can have a wider-ranging selection of gears, meaning less shifting on the front chainrings (an approach that SRAM has followed with its Eagle groupset which has only a single front chainring), and you can have less of a jump between the gears on the cassette to ensure a smooth pedalling cadence as the terrain changes (an approach that Campagnolo looks to be following with its 12-speed patent).
Already, the introduction of 11-speed cassettes has all but killed off the need for triple chainsets, which were introduced to provide lower gears. Now it is common to find cassettes fitted on road bikes that go as low as 32-teeth, coupled with a 34-tooth inner chainring. And you can still have a 50t chainring and 11t highest gear at the back for those fast descents.
Pros and cons
The disadvantages of increasing cassette size are perhaps slightly less obvious. Despite manufacturers reducing the physical width of the sprockets on the cassette, the gaps between them and the width of the chain, the width of the cassette has slowly crept up.
However, the distance between the dropouts on frames has not changed. The only way to accommodate the larger cassette is to 'dish' the rear wheel, so that the spokes on the drive side are shorter from the hub to the rim. This has certain strength implications; as you may remember from your school physics lessons the strongest shape is an isosceles triangle with equal angles at its base. Rim manufacturers have experimented with ways around this — some using offset spoke holes to reduce the effect of dishing.
>>> Should you worry about chainline efficiency?
Having less of a gap between sprockets is a double-edged sword when it comes to shifting performance. Less of a gap means less leverage needed to ship the chain from one cog to another. But that also means that there is less tolerance to misaligned derailleurs, sticky cables and worn chains. Of course, this isn't an issue with the new breed of electronic gears that auto-adjust themselves.
Another drawback is that it's tricky to upgrade. You cannot simply slap an 11-speed cassette on a 10-speed bike, and the same would be true of 11 to 12-speed. A new shifter and swap to a narrower, compatible chain and chainrings to achieve an efficient drivetrain.
Watch: Shimano Dura-Ace R9100 review

One on the back, one off the front?
Weight is also an issue — more sprockets means more metal. This weight gain has been largely negated over the years with the use of lighter materials, and careful drilling and machining of parts to lose mass, but in some instances this has had a negative effect on longevity.
>>> Is the compact chainset dead?
Bikes with two or more chainrings will have a crossover of gears: the lower selection of gears when in the large chainring is equivalent to the higher selection of gears in the small chainring. This is to give you a wide spread of gears no matter which chainring you are in.
SRAM has a selection of single-ring groupsets designed for road bikes, having previously introduced them for the mountain bike and cyclo-cross markets. This single-ring set-up at the front has weight and mechanical benefits, both in terms of the missing ring and also the missing gear shifter and cable, although it can never replace the full range of gears in a double-ring set-up. Maybe this is where the appeal of a 12-speed cassette really comes in.
Our take
None of the big drivetrain manufacturers has a 12-speed road groupset on the market, as there are still gains to be made in honing the performance of current 11-speed set-ups and in further development of electronic gears. However, the prospect of ditching mechanically inefficient front chainring shifts in favour of a lightweight, wide-ranging 1x12 set-up is an enticing prospect for some applications.
Thank you for reading 20 articles this month* Join now for unlimited access
Enjoy your first month for just £1 / $1 / €1
*Read 5 free articles per month without a subscription
Join now for unlimited access
Try first month for just £1 / $1 / €1