Easton adds power meter option to its modular chainset
New Cinch power meter adds bottom bracket power measurement option to the Easton EC90 SL modular chainset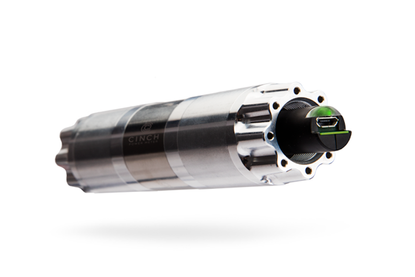 Easton has added a power meter option to its EC90 SL crankset. Called the Cinch, it measures power output via strain gauges in the bottom bracket spindle and Easton says it only adds 65 grams to the overall weight of a non-power meter EC90 SL chainset.
Without an external spider, Easton says it's easy to set up the Cinch with whatever gearing requirements meet your needs. Easton's EC90 SL chainset is entirely modular. So you can, for example, change chainrings, crank arm length, or from a single to a double ring set-up without needing to swap your power meter.
The Cinch uses single sided power measurement and doubles this up to give overall power, so you don't get the left-right balance option which you do with some other power meters. But you do get cadence and calculated pedalling efficiency and Easton quotes power accuracy of +/-2%.
>>> How to train with a power meter
Being hidden in the bottom bracket shell, the meter is protected from the elements and physical damage. It's recharged via a covered USB port in the end of the spindle and Easton quotes a battery life of over 400 hours. There's built-in Bluetooth and ANT+ connectivity to head units.
>>> Easton EA70 SL wheelset review
There's also an app to go with the Cinch, available for iPhone and Android devices. It allows you to calibrate the meter, check battery level and put the unit into travel mode.
The Cinch power meter works with Easton's recently launched EC90 SL crank arms. These use a direct mount interface either to a single chainring or to a spider for a double chainring set-up. Easton promotes the ability to change between different sized single rings as a major advantage, allowing a rider to select the chainring size that suits the terrain being ridden or raced over. There's an MTB compatible 134mm version of the Cinch power meter as well as the road version.
>>> Power to weight ratio: why it's important and how to improve yours
The EC90SL crank arms with a double ring set up are available via UK distributor Silverfish and retail for £439.99, while with a single ring they are £389.99. You can buy the crank arms only for £339.99. On top of that a non-power meter bottom bracket costs £59.99, while chainrings cost from £79.99 to £96.99.
Sterling price for the Cinch power meter is yet to be revealed.
Thank you for reading 20 articles this month* Join now for unlimited access
Enjoy your first month for just £1 / $1 / €1
*Read 5 free articles per month without a subscription
Join now for unlimited access
Try first month for just £1 / $1 / €1