Highlights of the Cannondale 2018 road and cyclocross ranges
In the rain in a muddy bike park, Cannondale was showing off its finest road and cyclocross machines for 2018. Here are the highlights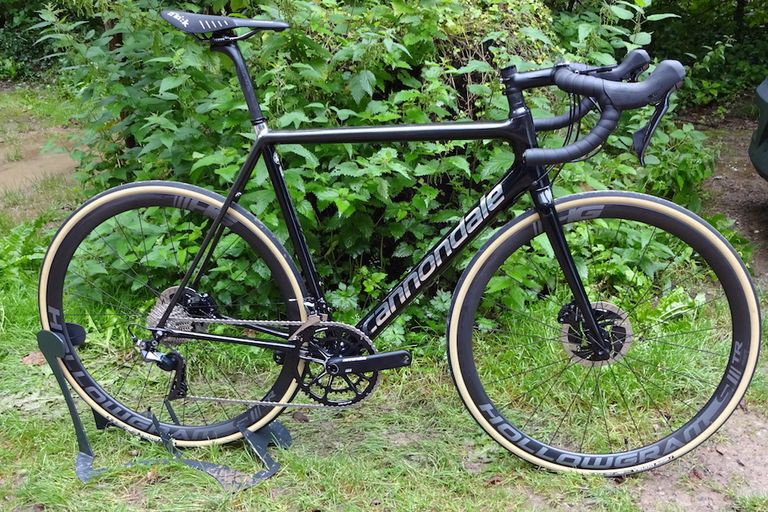 We were really smitten by the mirror finish on this £5000 SuperSix Evo Hi-Mod. The rear side of the seatstays and the inside faces of the forks are chromed and the Cannondale logo is in mirror finish too. It comes kitted out with Dura-Ace R9100 hydraulic disc groupset and Cannondale's own carbon wheels.
The new Synapse range is huge, with three hi-mod carbon variants priced from £5000 to £7800 and specced with Dura-Ace, Dura-Ace Di2 or eTap. There are then eight standard modulus carbon bikes ranging in price from £5000 down to £1400. And then there are another four alloy models from £1300 down to the Sora-equipped entry level bike at £850.
And there are another four standard modulus carbon women's models from £3700 to £1400 and three alloy women's bikes from £1200 to £850. That's a total of 22 different Synapses.
Cyclocross bikes
Cannondale has expanded its carbon SuperX range this year. It's topped out by the £4300 SuperX Di2. This comes with a single ring Cannondale HollowGram Si 40 tooth chainset and a Shimano XT Di2 rear mech running an 11-32 cassette.
It's a neat set-up mixing Shimano's road and off-road electronic groupsets, while the extra-powerful motor in the XT Di2 mech should help keep shifting sweet in muddy conditions.
When we tested the SuperX last year, we were disappointed that there was only one single ring variant. Cannondale must have been listening, because this year all the SuperX bikes are single ring, with the £3000 SuperX Force being joined by an Apex 1 version priced at £2500. There's also the gravel-oriented SuperX SE at £3250.
The four alloy CAADX bikes all have two rings. The range kicks off with the £1000 CAADX Tiagra and goes up to the £1700 Ultegra version. In the middle are two 105 versions.
The CAADX SE comes with 105 mechanical shifters, 37mm WTB Riddler tyres, cable disc brakes and a supercompact 48/32 chainset for an all-terrain/ gravel set-up.
That and the SuperX SE are Cannondale's gravel representatives, as the Slate will not be sold in the UK in 2018, although it will continue to be available in other territories.
Cannondale will continue to offer a comprehensive range of flat bar bikes too, as well as a men's and a women's e-bike.