Hiplok unveils more affordable wall anchor for at home bike security
New Ankr design offers maximum security according to bike lock brand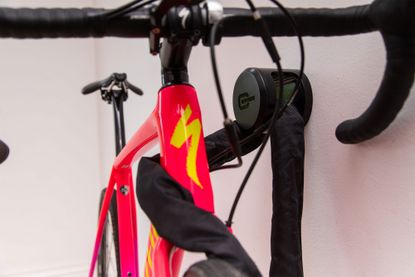 Hiplok has unveiled a maximum security bike anchor designed to help cyclists fight the threat of theft from the home.
An overview of bike theft produced by the Office for National Statistics in 2017 showed that bike theft is most likely to occur in a 'semi private location nearby the victim's home', including outside of the premises and garages 'not connected' to the house.
"With the latest crime statistics indicating that most bikes are stolen from homes or outbuildings, we wanted to bring our unique Hiplok problem solving design approach to bike storage," said Hiplok co-founder, Ben Smith.
The new 'Ankr' lock offers a unique design which allows for security without the need for permanent bolts.
Said to be easy to install and move to a new location at a later date, the system forms part of the 'Store + Secure' line alongside the Airlok which was launched in 2016.
Retailing at £69.99, it'll be available from February 2020 at a much lower entry price than the Airlok with its £149.99 RRP.
>>> Best bike storage solutions 2019: hooks, racks and sheds
The Ankr will be on show at Eurobike, cycling's biggest trade show held in Friedrichshafen, this week.
Made from a premium hardened steel cylindrical outer case, the Ankr features a rotating inner that cannot be removed once mated with a lock.
Rated Gold Level security for bicycles and motorbikes by Sold Secure, the lock can be used in or outside safely.
The Ankr features multiple fixing holes, so it can be mounted to a variety of floor and wall surfaces. There's an integrated rubber cap, which prevents frame scratch.
Thank you for reading 5 articles this month* Join now for unlimited access
Enjoy your first month for just £1 / $1 / €1
*Read 5 free articles per month without a subscription
Join now for unlimited access
Try first month for just £1 / $1 / €1