How to fit new brake pads
Our resident mechanic is Kaye Patton is able to fix pretty much anything. Here we show you how to change brake blocks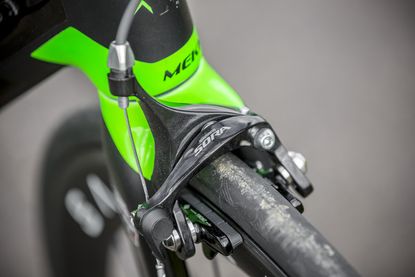 Time taken: 5 minutes
Tools for the job: A selection of Allen keys, new brake block cartridges
If your brakes blocks are getting dangerously close to their wear indicators, if they're squeaking like a bag of cheesed-off mice, or if they're simply getting old and you want to rejuvenate your braking, fitting new brake blocks is a quick and easy job.
1. First lift the brake caliper quick-release so the blocks move away from the rim.
2. Most modern road bike caliper rim brakes use a rubber brake block cartridge, held in an aluminium shoe. Undo the bolt holding the shoe in the caliper arm and remove it from your bike. (Try to remember the order the washers sit on this bolt.)
3. With the shoe in your hand, find the tiny bolt holding the brake block cartridge in place and unscrew it. Do not lose this minuscule bolt!
4. Slide out the old brake block cartridge and slide in a new one. If it doesn't want to budge, try using spittle as lubricant (sorry, but it does work).
5. Refit and tighten the tiny bolt. Then refit the shoe in the caliper and refit and tighten that bigger bolt holding it in place. Don't forget the washers.
6. Close the brake caliper quick release. Then realign the face of the brake block with the wheel, (there should be 1mm of rim visible above the block, a uniform gap along its length, and the block should hit the rim squarely or very slightly front end first).
Thank you for reading 20 articles this month* Join now for unlimited access
Enjoy your first month for just £1 / $1 / €1
*Read 5 free articles per month without a subscription
Join now for unlimited access
Try first month for just £1 / $1 / €1