Look 795 Aerolight RS receives a major update for greater ergonomics and speed
Look has re-designed the Look 795 Aerolight RS and the 795 Light RS, adding better ergonomics, comfort and speed.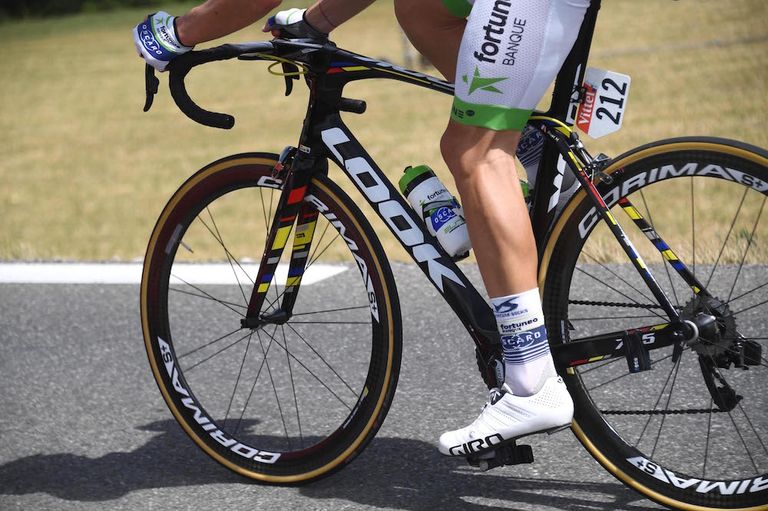 (Image credit: PRESSE SPORTS)
French brand Look has re-designed the Look 795 Aerolight RS and 795 Light RS, tweaking the models to improve the ergonomics and comfort of both rides.
The difference between the two is the level of integration. The Aerolight RS gets the most aerodynamic benefits, with integrated brakes behind the seat tube and under the head tube.
>>> Giant Propel Disc 2015: aero road bike receives disc overhaul
So, to make bike building and maintenance easier, Look says it has spent a lot of time re-designing the ergonomics of the two bikes.
On the Aerolight RS, the cable routing is now different, with the cables entering the handlebars for a clean look before exiting at a set of barrel adjuster. The aim here being both decreased drag and cable tension.
At the bottom of the bike, the rear mech cable no longer runs around the bottom bracket, but instead exits the down tube through a trapdoor before re-entering the bike at the chain stays.
However, due to the rear brakes position behind the seat tube on the Aerolight RS the cable is guided around the bottom of the BB.
The re-routing allows Look to claim that stem replacement time has been dropped to five minutes, while cable maintenance should now only take half and hour.
Watch: Tech of the month September 2017
Elsewhere, a now E-Post 2 Evo seat post should be more secure in the frame thanks to the addition of a screw over the tightening chord found previously.
Likewise, Look has hoped to addresses some of the post flex felt previously, while, the outer elastometer has been preserved.
At the bottom of the bike, the ZED 23 crankset supposedly boast the best stiffness on the market thanks to being a one piece carbon construction.
Although, for ease of use, Look does say Trilobe inserts make it possible to change cranks without changing the entire crankset.
Up front, the Di2 integration port remains in the same place just behind the stem, but it is now accessed from underneath so that the important ports are accessible from the top tube.
Also updated are the 31.8mm in width ADH2 handlebar which now have integrated quick release for the brake callipers. Most usefully for the Aerolight RS, the handlebar now has brake barrel adjusters for easy adjustment.
Look claims that the new bike weighs in at 6.6kg as a complete build with a supposed 11.7% aerodynamic gain. The bikes are available now, with prices starting at €5699.
Thank you for reading 5 articles this month* Join now for unlimited access
Enjoy your first month for just £1 / $1 / €1
*Read 5 free articles per month without a subscription
Join now for unlimited access
Try first month for just £1 / $1 / €1