Muc-Off launches tubeless tyre sealant line
New sealant will deal with holes up to 6mm and is cold-stable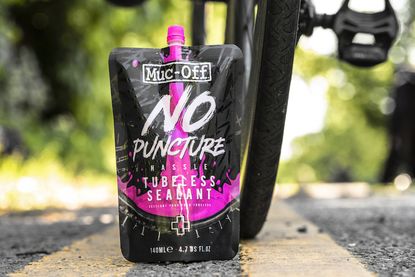 Muc-Off says that it's worked with pro road teams and downhill racers to develop its No Puncture Hassle sealant. It comes in a 140ml pouch that can be fitted over a presta valve stem to inject the sealant into a seated tyre without mess. You can also buy a one litre refill pack to refill the pouches.
The latex used is compatible with carbon dioxide tyre inflators and includes antifreeze to stop it balling up from the cold when using an inflator.
According to Alex Trimnell, managing director of Muc-Off: ""We have tested No Puncture Hassle under the most brutal conditions on the planet with 3 years of deep R&D using a wide group of our pro athletes from around the world. The formula we finally created is a result of 100s of hours of testing, the results of which have taken tyre sealant performance to a new level."
>>> How to puncture proof your tyres
One problem with some sealants is that, although they will seal pin-prick punctures, they don't cope well if you get a larger hole in your tyre. So Muc-Off has included microfiber molecules in the formulation to help form a matrix to seal larger tears. It says that this allows it to deal with holes up to 6mm across.
Muc-Off says that its sealant's unique features include a UV-based detection system, allowing you to see if any sealant has leaked out of a puncture. It's the same system, using a small UV light, as used to ensure that its lubricants are evenly applied to your chain.
Finally, Muc-Off's No Puncture Hassle sealant is biodegradable and non-corrosive. Any excess can be washed off with water.
A 140ml kit costs £9.99, while a 1 litre refill is £29.99. There's also a workshop-size 5 litre pack on sale for £120.
Thank you for reading 20 articles this month* Join now for unlimited access
Enjoy your first month for just £1 / $1 / €1
*Read 5 free articles per month without a subscription
Join now for unlimited access
Try first month for just £1 / $1 / €1