Connor Swift gets new custom painted Genesis – and it's got disc brakes
New paintwork design for the national champion's bike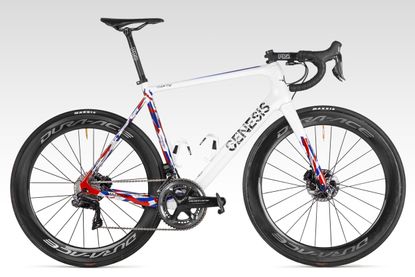 Last year, British national champion Connor Swift was presented with a custom painted Genesis Zero SL bike, ahead of the Tour of Britain. Now he's got a new custom paint job on the disc braked Genesis Zero SL Disc that he's riding this season as a second option.
Swift is pleased with the new design, saying: "Obviously I could have gone for the same design as my original, however having Rob at Colourburn Studios remake the original wouldn't be as fun... you can let him loose and come up with a fresh design that is just as cool and amazing as the first time round.
"Having both of the custom bikes side-by-side will be mega and I love both designs! Huge thanks to Rob and everyone at Madison."
The new bike continues the red, white and blue theme, but with the front part of the frame finished in a more muted stippled effect, rather than the abstract expressionist Jackson Pollock look of the rim brake bike.
At the rear, the seat tube, seatstays and chainstays get a bolder, more pronounced colourway, with the red white and blue supplemented by flashes of silver. The effect is replicated on the bottom of the fork legs too. Swift still gets his name on the side of the top tube and a Yorkshire rose on the down tube, as well as '01.07.2018', the date of his National Championships victory, on the top tube.
>>> Connor Swift to stay at Madison-Genesis for 2019 season
As you'd expect, Swift gets Shimano's top-end Dura-Ace groupset, which is paired with 60mm deep Dura-Ace thru-axle wheelset and Maxxis rubber.
Thank you for reading 20 articles this month* Join now for unlimited access
Enjoy your first month for just £1 / $1 / €1
*Read 5 free articles per month without a subscription
Join now for unlimited access
Try first month for just £1 / $1 / €1