Need a 1000 Euro, 240 gram brakeset? You can now buy one direct from THM Carbones
Super-premium German component brand THM Carbones is selling its kit direct from its website.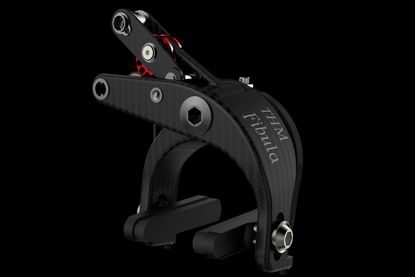 "If you want to know the price, you probably can't afford it" is as apt to THM Carbones's carbon bike components as to a yacht. THM says that its range is engineered without compromise and at the forefront of what is feasible in cycle components.
It makes some of the lightest cranksets, forks and brakes in the world, with all its components hand built in North Germany.
Founded by Thomas Merten, the company was bought last year by Italian component maker 3T, to bolster its premium offering. It's also allowed 3T to share know-how and marketing.
>>> 3T Exploro: the world's first aero gravel bike
As part of this, THM now has its own e-commerce website with products shipped direct to customers in Europe, Asia and Canada. US customers will have their own dedicated US-located warehouse.
Previously, getting hold of THM components had been something of a problem for the brand's customers. According to 3T's president René Wiertz: "Many customers have asked if we can supply direct, because they weren't able to buy THM products in local stores.
With the new website and online store, we've addressed this pressing need."
>>> Compare these super-lightweight hill climbers' bikes
The 2017 range of THM componentry comprises cranksets, a fork, a brakeset and a stem. The 941 Euro (plus shipping) Clavicula SE crankset is all-carbon with an integrated carbon axle.
THM says it's extraordinarily stiff in all planes, with a patented carbon-to-carbon join between the left crank arm and the axle.
THM boasts a weight of 293 grams for a compact crank and 302 grams for a standard. You'll need to buy rings to add to that; THM recommends Praxis Works's models.
>>> Is the compact chainset dead?
The Clavicula M3 modular crank system will work with either standard or compact rings and with SRM power meter spiders. At 740 grams, THM says it's the world's lightest SRM set-up. Price for the crankset is 641 Euros. There's also a mountain bike four-arm version available at the same price.
Watch: Lightweight Urgestalt 5.8kg superbike
You'll need a matching stem to go with that. Weighing 78 grams for a 100mm version in carbon with titanium bolts, the Tibia stem will set you back 409 Euros. In comparison the 260 gram Scapula CT Road fork looks a bit of a bargain – it's only 688 Euros.
Pair all that lot to the 1008 Euro 240 gram (without brakepads) Fibula brakeset and you're good to go. Apart from a suitably spendy wheelset that is.
Thank you for reading 20 articles this month* Join now for unlimited access
Enjoy your first month for just £1 / $1 / €1
*Read 5 free articles per month without a subscription
Join now for unlimited access
Try first month for just £1 / $1 / €1