DT-Swiss says new wheels set 'industry benchmark' for efficiency
DT-Swiss has revealed a completely redesigned wheel line up in a association with Swiss Side. Having performed extensive aerodynamic testing the company believes its new wheels are the new benchmark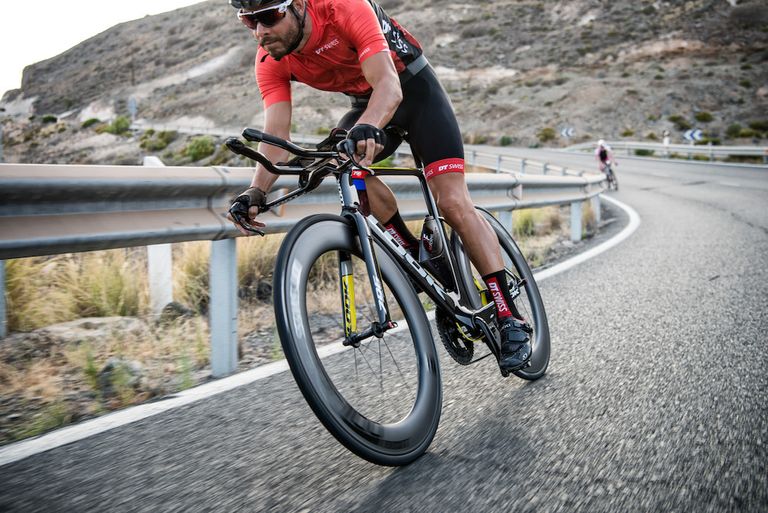 DT-Swiss has launched new wheels in a range of depths, that are claimed to be faster than ever before. The new wheels have been developed in conjunction with aerodynamic experts from Swiss Side, who have sought to optimise aerodynamic stability and reduce drag.
DT-Swiss has redefined its road wheels into three categories - Aero, Performance and Endurance.
Back in November DT-Swiss launched its new ERC 1100 wheels, which sit in the brand's 'Endurance' range. With a focus on endurance type riding, these wheels featured a wide 20mm internal rim width and an aero profile designed for all round use.
Watch - Which tyre system is the fastest?
The new 'Aero' line has been developed in conjunction with aerodynamic experts Swiss Side and will see wheels available in 80, 62 and 48mm versions, depending on your requirement.
Disc brake or rim brake versions will be available on all the wheels. In addition, all the wheels are tubeless ready and have an internal width of 17mm.
The ARC 1100 wheels sit at the top of the range and have DT-Swiss' latest 240 hubs with ceramic bearings and 36t ratchets. The new hub is narrower than before, which is claimed to save a small amount of aero drag.
>>> Wheels inspired by whales 'dont work because they create more drag.'
Swiss Side has performed extensive wind tunnel and CFD studies to optimise the new wheels and used its existing Hadron rim profile as a starting point.
The optimisation of the design has involved a lot of competitive testing with rival products from other leading wheel brands.
According to Jean Paul Ballard of Swiss Side, "the Zipp 808 is a good wheel with regards to steering moment and stability, however the ARC 1100 is more efficient, exhibiting a 10 per cent drag reduction."
However, this improvement is marginal and equates to a "one watt shift across the entire yaw range" of +/– 20º.
The Performance line (PRC) is DT-Swiss' own wheels and is not in collaboration with Swiss Side.
Two depths are available - 65mm and 38mm. The PRC 1400 65 Spline (to give its full name) is based around the existing RRC 65 Dicut rim, with a new hub and component build. The wheels feature an 18mm internal rim width and are also available in disc and rim brake versions.
According to DT-Swiss, since 2013 - the 38mm wheel is now 1 per cent heavier, but 20 per cent wider, 15 per cent stiffer and 20 per cent more heat resistant under braking.
The Performance wheels have a slightly different hub to the ARC wheels, pictured below. The hub still contains 240 internals, but is slightly less aero.
All the new wheels feature a homogeneous construction, meaning that every component is made by DT-Swiss.
Pricing and availability is still to be confirmed, although it is likely to be in the same ball park as existing DT-Swiss products.