NEW FOR 2007: SPECIALIZED ROUBAIX SL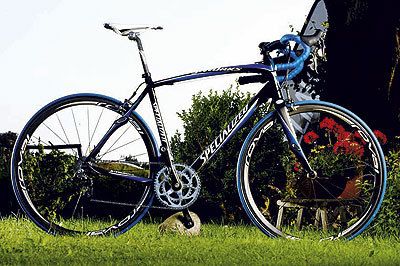 Keeping with Specialized's body geometry theme, the Roubaix SL has been designed for a specific type of riding and its geometry designed appropriately. To summarise, this means that the Roubaix has gentler angles and a more comfortable and laid-back riding experience than the Tarmac. This bike was first featured in our Tour of Flanders report as being ridden by the Gerolsteiner team so it isn?t too far removed from the pure race bikes.
Again supplied with 40mm of headset spacers and sensible gear ratios to ensure a better rider fit and ride experience, the Roubaix is aimed more towards the mass-participation event end of the market. While not intended as a pure racing machine, it is intended for sportive and general riding. The Zertz elastomer damping is designed to take out some road vibration and removes the sting from large holes.
The longer wheelbase will ensure comfort on long rides and at a sportive level should give no problems. For a general all-round bike intended as a machine to spend a lot of time on, the Roubaix is an ideal choice. Again available with the SRAM Force at the top of the range and Dura-Ace, Ultegra and 105 options.
For more new products, check out Cycling Weekly's 'New for 2007' special, on sale from Thursday December 7.