Pace Strava segments to perfection with new KOM/QOM hunting app
Xert Segment Hunter helps users to achieve PBs on segments - including time trials and longer courses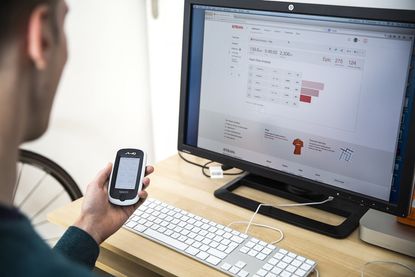 Xert is a training platform that helps athletes to track their progress and tailor activities based on current goals - but now it's delving into the murky world of Strava competition with the Xert Segment Hunter. (opens in new tab)
The cycling centric app, launched by Xert's owners Baron Biosystems, is designed to help riders to pace their efforts on Strava's timed stretches - that could be a short climb, the flat, windy stretch on the way back from your regular lunch time ride - or it could be the entire distance of a time trial course.
>>> How to use training software to peak for events
Users set a 'target time' before they set off - but the app will adjust power targets on the fly, based upon how much time is left, and accumulated fatigue.
Therefore, if the target time is over-ambitious, or the rider is being buffeted by headwinds, the app will still aim to have them finish with the best time possible, and if it was an under-ambitious target or there are tail winds, target powers will adjust in favour of an even faster time.
"This new app showcases another use of Xert's advanced analytics: to hunt for segments or pace a time trial. By modelling a rider's fatigue in real-time, we can adjust their power targets on-the-fly to help them deliver their best performance," says Xert's Founder, Armando Mastracci.
"This is a totally new way to have fun with segments, and we're also seeing our early adopters use it to pace themselves through time-trials."
The algorithm adjusts the power targets to helps a rider achieve a 'breakthrough-on-the-line' - which in Xert language means to reach the finish line having reached their absolute maximum capacity.
Mastracci explained: "The concept of a 'breakthrough-on-the-line' has been intuitively understood for years, but never before has an athlete had a tool to guide - and push - them to reach exhaustion right on the finish line. We're the first to provide technology to support this essential part of pacing and performance."
The Garmin only app is available on the Garmin Connect IQ Store, and works with all Garmin Edge units as well as wearables like the Fenix watches. You'll need a Xert (opens in new tab) account, but can try a free subscription - and a power meter is a must.
To get going, users have to sync segments to their Garmin at xertonline.com/segments, select a target time and pacing preference, then follow on-screen power targets.
The app runs as a Garmin data field - so can be added to the metrics given on any Garmin unit, in the same way you can select 'average speed', 'elevation' or '3 second power'. When the rider begins a segment, the app provides target power, plus a colour coded background which helps to show even an oxygen starved brain if the attempt is on track.
Thank you for reading 5 articles this month* Join now for unlimited access
Enjoy your first month for just £1 / $1 / €1
*Read 5 free articles per month without a subscription
Join now for unlimited access
Try first month for just £1 / $1 / €1