Planet X launches four new Carnac road helmets
New helmets aim to provide premium features at attractive prices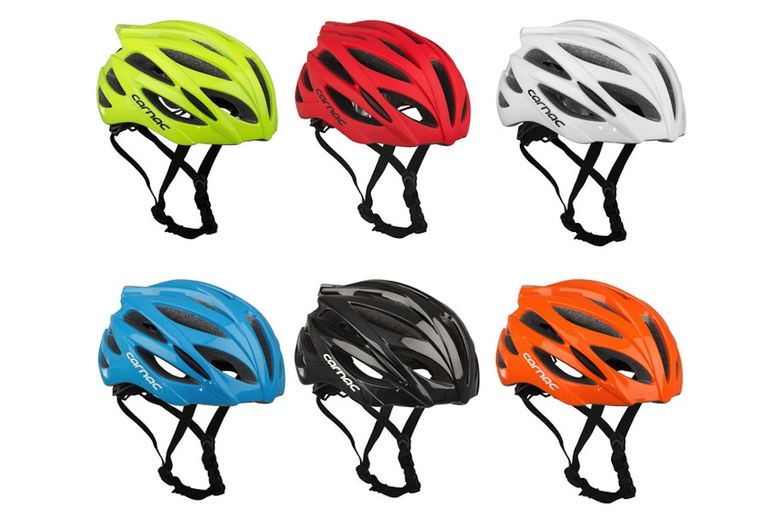 Planet X has announced the addition of four new road helmets and two new MTB helmets to the Carnac range.
Priced at £34.99, Carnac's Croix helmet comes in two sizes and has a claimed weight of 205g for the smaller. It comes in a range of five bright solid colours.
>>> How to get started in road cycling
The company says that the Carnac Aura is designed for long days in the saddle and mixes style with aerodynamics. With 30 vents, it majors on good ventilation and also strap comfort. The claimed weight is 345g for a size Small/Medium and there's a Large/Extra Large size available too. The Aura is priced at £49.99 and comes in five colour options.
>>> The best cheap bikes ridden and rated
Watch: Cycling Weekly's helmet buyer's guide
Next up in the road range is the Podium. Also priced at £49.99, it has a clamed weight of 230g for a Small and is available in Medium and Large sizes too. Available in black and white it's a classic road helmet shape with a tapered rear.
>>> Planet X launches new Viner Maxima carbon road bike
Top of the new helmet options is the Corus, priced at £79.99. It's a more aerodynamic design with fewer ventilation slits at the front but three large ones at the rear to ensure good cooling. It comes in five different colours and Small/Medium and Large/Extra Large sizes, with the smaller size having a weight claimed to be 265g.
>>> Is a long tailed aero helmet faster?
For more details take a look at Planet X's website. And look out for a review of Carnac's Kronus TT helmet coming soon in Cycling Weekly.