Perfect pressure: Quarq's Tyrewiz device will send real time tyre pressures to your cycling computer
Marginal gains maxed out?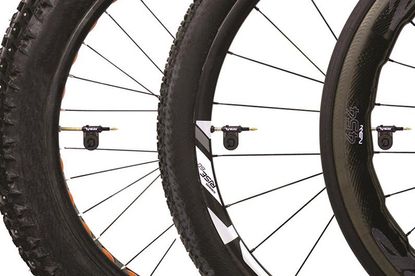 Quarq has announced its TyreWiz, a device that will send immediate tyre pressure updates to your cycling computer.
Designed off the back of the standards set by Quarq's DZero power meter range, the new device is designed to help rider's get the most from their tyres.
According to Quarq, the device will improve tyre traction and longevity by allowing riders to see real time pressure updates beamed straight to their cycling computer or smartphone.
The TyreWiz sits on the valve and has two sensor that monitor the air pressure inside the tyre. Quarq says that it will be compatible with both removable Presta valves and tubeless ones and will work on mountain bikes. The pressure data it collects is beamed straight to the TyreWiz app which can provided personalised recommendations and pressure alerts.
Quarq says that it's accurate to +/-2% or .1 PSI, saying it's the first time riders have had highly accurate pressure numbers on hand to make decisions about rolling resistance.
Watch: April's tech of the month
The new device is supposedly durable, waterproof to an IPX7 rating and powered by a replaceable coin cell battery that should last 300 hours. It has NFC pairing for smart phones and ANT+ or BE compatibility.
According to Quarq, the whole product adds just 10g to your bike. It'll be available on the 1st June in the USA for $199 and the 27th June in the UK for £229.
It's a lot of money, but perhaps the device can eliminate the dreaded "phantom puncture". It might also be useful if you run tubeless and are particular about your potentially low tyre pressures.
"Tire choice and tire pressure are the most underrated factors in cycling performance and comfort today," said Jim Meyer, founder of Quarq.
"Riders have more choices than ever when it comes to tire and rim design. There's a challenge in finding the right combination of those things, and we're making those choices based on gauge technology that hasn't changed much since the 19th century. Real-time tire pressure monitoring technology isn't new, and we believe it should be on every bicycle to make the riding experience better."
The product comes off the back of the popular mountain biking ShockWiz, a device that game real time suspension information to the rider on the trails.
Thank you for reading 10 articles this month* Join now for unlimited access
Enjoy your first month for just £1 / $1 / €1
*Read 5 free articles per month without a subscription
Join now for unlimited access
Try first month for just £1 / $1 / €1