Scott Addict gains disc brakes for 2017
Climber's bike of choice gains just 60g in weigh over the rim brake version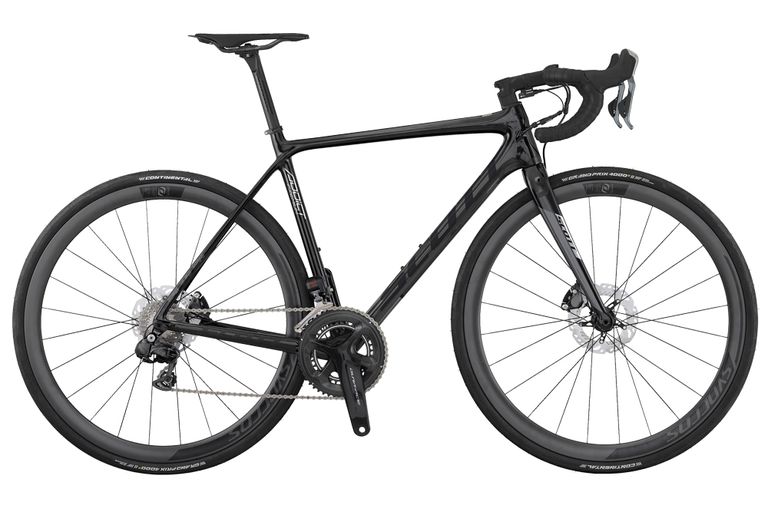 The Scott Addict has been around for a few years now, being Adam Yates' bike of choice as he rode to fourth place and the white jersey in the Tour de France. However from 2017, the bike will receive an overhaul, being available with disc brakes for the first time.
Traditionally this has been the company's lightweight climbing bike (while the Scott Foil, redesigned last year without disc brakes, has been its aero bike), so it's no surprise that the Scott Addict Disc has apparently been designed to retain the low overall weight.
>>> Disc brakes: everything you need to know
Adding discs to a road bike necessitates adding extra material to the fork and rear end in order to cope with the asymmetric forces exerted on the frame and fork during braking. However, despite the extra material, Scott says that the framesets of the high end models (which will be made from a higher grade of carbon-fibre) weigh 1305g, only 60g heavier than the equivalent non-disc model.
Watch: Esteban Chaves' Scott Addict

A small amount of weight is saved from the removal of the brake bridge between the seatstays, which also means that the Scott Addict Disc will officially be able to cope with tyres up to 28mm in width (although we expect you could push this a bit wider).
>>> Just Landed: Scott Addict CX10 cyclocross bike
The frame will come with thru-axles front and rear (100x12mm at the front and 142x12mm at the rear), while all of the hydraulic hoses will be routed internally through the frame and fork.
We expect there to be three different bikes in the Scott Addict Disc range, starting at the top with the Scott Addict Premium Disc Di2, which will come with a Shimano Dura-Ace Di2 R9170 disc brake groupset and Syncros carbon wheels.
The lower two models, the Addict 20 Disc and the Addict 30 Disc, will come with Shimano Ultegra and Shimano 105 respectively, with frames made from the slightly lower grade HMF carbon-fibre.
Pricing and availability is yet to be confirmed.