Adam Yates: Britain's newest Grand Tour sensation
Before his breakthrough performance at the recent Tour de France, we sat down with Adam Yates to look at his career so far and where he hopes to go in the near future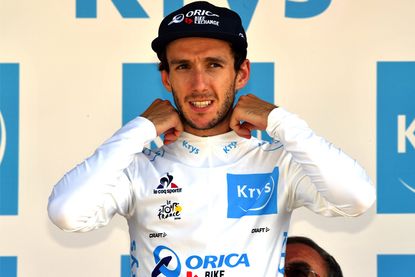 Adam Yates isn't like most British professional cyclists. Maybe it's because when he was two years old the ribbon was snipped on a brand new indoor velodrome in Manchester and the current generation of British riders — those who were aged 10 and under when the doors opened in September 1994 — cut their teeth on the smooth Siberian pine of Stuart Street.
Maybe it's because Great Britain doesn't have the high mountains and lengthy climbs that you find somewhere like the Basque Country — a region nestled in the western corner of the Pyrenees that seems only to produce climbers like Mikel Landa, Igor Anton and Beñat Intxausti and their ilk.
Maybe it's because cycling nirvana in Britain's bread and butter amateur scene is attained by bombing up and down a flat dual carriageway past a man with a stopwatch wearing a high-vis jacket and then reading a number written in felt-tip pen on a big sheet of paper in a village hall, over a cup of tea.
Yates is a pure climber — a 5ft 8in ultra-lightweight whose body weight appears to have melted off his shoulders like wax off a candle and weighs in on the skinny side of 60kg — and in the UK at least, riders like him don't come around very often, even if Brits have won three of the last four Tours de France.
"When I turned professional Wiggo had won the Tour the year before and Froome won the Tour that year," Yates recalls. "But both these guys, firstly they were time triallists and then they became climbers. But I'm an out-and-out climber. I've not come out of the TTs."
The only rider similar to Adam Yates is Simon Yates, who rides on the same Orica-BikeExchange team. He should be similar; he's Adam's twin brother. Yet, with the pair racing apart for three formative U23 years and more often than not riding different programmes with their professional team, Adam Yates has had to get used to treading his own pathway to the pinnacle of his sport.
And, just like he does when he gets to the bottom of a hill, he is making his way up pretty quickly. Finishing fourth at his second Tour de France, and picking up the white jersey for best young rider, plus a berth at the Rio Olympic road race, the 23-year-old could well be Britain's most exciting and unpredictable prospect this summer.
Going his own way
The seeds were sown back in late 2010 when Yates, who started on the track and in the colours of Bury Clarion CC, was turned down for a place on British Cycling's track-based U23 Academy while his brother Simon was accepted.
Many youngsters might not bounce back from such a blow, but Yates refused to be deterred, packed his bags, waved goodbye to his rainy hometown and went off to France.
In the unfamiliar and unforgiving environment of the French amateur scene — with few English speakers and few direct predecessors to learn from over two seasons at UVCA Troyes and a year at CC Etupes — Yates didn't immediately sink, but it took until his final season and second overall in the 2013 Tour de l'Avenir for him to start swimming.
In one respect his current Orica-BikeExchange team isn't too dissimilar an environment either. In its two years prior to the arrival of Yates, the Aussie team had focused on one-day Classics and team time trials.
The most memorable thing they'd done in a Grand Tour was a music video to accompany Carly Rae Jepsen's 'Call Me Maybe' that they pulled together for the 2012 Vuelta.
The difference of course is that Yates didn't take long to start winning, and winning pretty big. He took a stage and the overall at the 2014 Tour of Turkey and won the 2015 Clásica San Sebastián almost without realising it, in the process dealing with some unfinished business in the Basque Country, where he had crashed out of the leading group in the same race 12 months earlier.
"Straight from the start I was trying to get up there in all the GC races," Yates says.
"I believed in myself and Orica believed in me and they gave me the opportunity to try these things. And it worked out, and the first year I took my first stage race and stage, so just right there that shows you that confidence goes a long way."
But without an established GC rider on the roster, Yates, along with his brother, the Colombian Grand Tour talent Esteban Chaves (who came second in this year's Giro d'Italia) and 2016 neo-pro Australian Jack Haig, is part of a new wave of emergent stage racers blazing their own trail on the squad.
"The problem is that for me, I'm a completely different rider to a lot of the older guys," Yates explains. "There's no real out-and-out climber. So there's no one in the same position as me."
In any profession, young apprentices often need a guiding hand to help them make their first steps. In a job so demanding, so specific and so culturally entrenched as professional cycling, you'd think a Bury-born Brit living in Girona on an Aussie team would automatically latch on to some sort of elderly role model.
"Not really, I wouldn't say," Yates says. "I wouldn't say there's anyone out there who is a mentor or a role model who I look up to."
Tellingly, in his first ever Tour de France mountain stage in 2015 he finished seventh. On the day that Chris Froome blew apart the race and riders who had finished on the Tour de France podium the year before haemorrhaged minutes, Yates — with no lead-out, no mountain domestiques, and just nine days of Tour experience under his belt — clung on.
"I was seventh in the Mûr-de-Bretagne stage and again in La Pierre Saint Martin, but that was a proper mountain stage and I was up there with the best guys," he says. "It was only Froome, [Nairo] Quintana and I think Richie Porte who were miles ahead of me. So for a second year pro, first Tour, I'd say it was pretty cool. I wouldn't say I had to pinch myself or anything but you look back and I'm impressed with myself, in a way."
Single-minded ascent
Climbers have always tended to do their own thing. Going fast up a mountain is an obsessive niche in cycling (which is already an obsessive sport) with the uphill specialists holding an extreme, almost semi-religious concern with being light.
Unlike bunch sprinters, who win by millimetres, or time triallists, who often win by mere seconds, success and failure can be dramatically exposed on a climb. Theirs are the most scintillating wins and the most brutally humiliating losses.
It's no surprise that the hall of fame for cycling's great climbers includes some of the most mercurial, complex and fragile characters that the sport has ever seen, whose fortunes go up and down like a mountain stage profile.
For example, Luxembourg's Charly Gaul, 'the Angel of the Mountains' during the late 1950s, retired from cycling and dropped off the back of the metaphorical peloton of the real world to live the life of a bearded hermit in a hut in the woods of the Ardennes, only emerging from his melancholy solitude in 1989.
While Gaul eventually climbed back up to the pack before his death at the age of 73, the lives of two of the world's greatest ever climbers — Luis Ocaña and Marco Pantani — ended prematurely in tragedy.
Ocaña, the only rider to ever threaten the hegemony of Eddy Merckx in the mountains during the 1970s and Tour de France winner in 1973, took his own life in 1994 aged 48. Pantani, the bald, slim-line sensation of the 1990s, died of a drug overdose in a seaside hotel on Valentine's Day in 2004, aged 34.
Britain's last pure climber was arguably Robert Millar, winner of the King of the Mountains in the 1984 Tour. The enigmatic and notoriously fiery Glaswegian had a reputation for being an uncooperative and proud character that was the very antithesis of 'easygoing'.
But on the road he was superb, dancing away to summit stage wins with his cheeks pinned back in a grimace around his aquiline nose.
Yates vs Yates: How well do they know each other?
There's no evidence in Yates of such self-destructive traits; he is chatty, positive and able to share a joke. But around a race he can be a bit fiery, a bit abrupt, and probably doesn't suffer fools gladly. Obsessive is perhaps too strong, but Yates is certainly single-minded and not one to be distracted.
Orica-BikeExchange seem to have learned how best to manage his character, and with characteristic Aussie laid-back-ness have resisted the temptation to pile pressure on those skinny shoulders. Yates has been allowed to make his own mistakes and learn from them himself.
"You have to be relaxed around them [Adam and Simon], they have big potential and they already make stress for themselves," says Orica DS Laurenzo Lapage (not an Australian but Italian).
"They have to learn things but sometimes it's better that they learn it when it happens. It's easy to say to them, 'You have to do it like this and this,' but they make mistakes, every young rider makes mistakes, they have to find out on the field.
"Things like missing a move, being too nervous in a race and attacking when you don't have to attack. We help them when we can and we tell them, 'This maybe was a mistake,' and we talk with them, we ask them what they think about stuff."
No pressure
Yates has certainly turned heads with his performances of late (see below) and, with his contract up for renewal at the end of the season, will no doubt attract some juicy offers from a number of teams. However, he plays down the significance of these impressive rides.
"In British cycling it's not as common, but there are a lot of people in my age category that are getting these kind of results anyway," Yates says. "We saw last year, Julian Alaphilippe, second in Liège-Bastogne-Liège and Flèche Wallonne. He's my age, and we've got guys like Bob Jungels [23] who wins stages in all sorts of races. It's not just me and Simon."
Adam Yates's palmarès
Alongside victories at the 2014 Tour of Turkey and 2015 Clásica San Sebastián, Yates has built up an enviable record in stage races and hilly one-day races.
2016 Tour de France —fourth overall; best young rider
2016 Critérium du Dauphiné — seventh
2016 Tour de Yorkshire — fourth
2015 GP Montréal — second
2015 Tour of Alberta — second
2015 Clásica San Sebastián —win
2015 Tirreno-Adriatico — ninth
2014 Critérium du Dauphiné — sixth
2014 Tour of California — fifth
2014 GP Industria & Artigianato — win
2014 Tour of Turkey — win
Thank you for reading 20 articles this month* Join now for unlimited access
Enjoy your first month for just £1 / $1 / €1
*Read 5 free articles per month without a subscription
Join now for unlimited access
Try first month for just £1 / $1 / €1