Shimano Ultegra R8000 vs Dura-Ace 9100: What are the main differences?
The new Shimano Ultegra groupsets look almost identical to Shimano Dura-Ace, but there are some subtle differences – here's what you need to know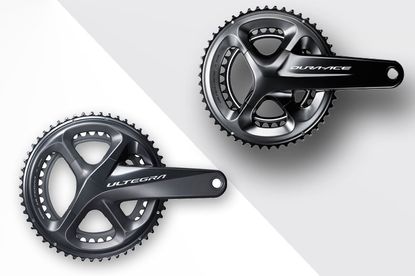 It doesn't take an eagle eye to realise that the new Shimano Ultegra R8000 series looks almost identical to the latest Shimano Dura-Ace R9100 groupset.
But the groupsets aren't just different on the surface: while the two are closely linked together, there are some pretty important differences between the two. Let's get stuck into the nitty-gritty.
Materials and production
Most of the differences between the two groupsets really comes down to materials. Shimano freely admits it had to hit a price point with Ultegra, and that meant swapping out some higher end materials for some slightly bulkier, less expensive options.
For starters, there are differences in the Di2 shifters. They're identical in shape, yet the shifters of the Ultegra groupset weigh 295g a pair Dura-Ace 230g a pair – yet both have carbon levers. This can only mean that Shimano's use of lighter materials for the internals shave the 35g off the Dura-Ace versions.
For example,the brackets of the Ultegra model made of a glass fibre resin, whereas Dura-Ace is made with a carbon fibre resin.
Interestingly, Ultegra actually receives a greater amount of free stroke adjustment than the Dura-Ace model, meaning riders should be able to get a more comfortable set up.
The hydraulic rotors also differ between the two groupsets, with the Dura-Ace models' cooling find receiving a black coating which aids with heat dissipation. In contrast, the Ultegra rotor fins are simply plain aluminium.
Both derailleurs are different are made of different materials than their Dura-Ace counterparts, although both have the same shifting action. Rather than an aluminium cage used on the Dura-Ace front derailleur, the Ultegra series gets a steel body.
Similarly, the cage on the rear derailleur is aluminium rather than the carbon one used on the higher end groupset.
Watch: Shimano Ultegra R8070 first look
Ultegra is a groupset designed to be used for a variety of riding styles. To this end, Ultegra can now accommodate a 34t cassette, whereas Dura-Ace tops out at a 30t.
Similarly, the Ultegra rim brakes are heavier because they have to be larger to accommodate 28mm tyres, which means more materials and extra weight.
New Shimano Ultegra is still the same Hollowtech II construction as before, and like most of Shimano's range, including Dura-Ace, it's a two piece construction, too.
Finally, the cassettes between the two are quite different. Whereas with the Dura-Ace groupset you're getting high end carbon fibre spiders with steel and titanium sprockets, on Ultegra you get all steel sprockets.
Weights
As minor as they may seem, these material differences do add up on the scales.
Front crank and chain rings: Ultegra 674g / Dura-Ace 609g
Front/rear derailleur:
Front derailleur mechanical: Ultegra 106g / Dura-Ace 70g
Rear derailleur mechanical: Ultegra 200g / Dura-Ace 158g
Front derailleur Di2: Ultegra 132g / Dura-Ace 104g
Rear derailleur Di2: Ultegra 242g / Dura-Ace 204g
Brakes (front and rear):
Mechanical: Ultegra 360g / Dura-Ace 326g
Hydraulic: Ultegra 280g / Dura-Ace 256g
Cassettes:
Ultegra 232g / Dura-Ace 175g
Total system weights:
Ultegra R8000 (mechanical) 2266g / Dura-Ace R9100 (mechanical) 2176g
Ultegra R8050 (Di2) 2353g / Dura Ace R9150 (Di2) 2047g
Ultegra R8070 (hydraulic Di2) 2627.6g / Dura-ace R9150 (hydraulic Di2) 2377g
Prices
Ultegra R8000
ST-r8000 319.99 Shifters
FD-r8000 49.99 Front derailleur
RD-r8000 84.99 Rear derailleur
BR-r8000 69.99 Front brake
BR-r8000 69.99 Rear brake
FC-r8000 249.99 Crankset
CS-r8000 74.99 Cassette
CN-HG701 34.99 Chain
Ultegra R8020
ST-r8020 649.99 Shifters + calipers
FD-r8000 49.99 Front derailleur
RD-r8000 84.99 Rear derailleur
FC-r8000 249.99 Crankset
CS-r8000 74.99 Cassette
CN-HG701 34.99 Chain
SM-RT800 49.99 Rotor (each)
Ultegra R8050 (any non-Di2 components are the same price as R8000)
ST-r8050 299.99 Shifters
FD-r8050 209.99 Front derailleur
RD-r8050 244.99 Rear derailleur
Ultegra R8070 (any non hydraulic components are the same price as R8000)
ST-r8070 649.99 Shifters + calipers
FD-r8050 209.99 Front derailleur
RD-8050 244.99 Rear derailleur
Shimano Dura-ace 9100
Shifters: £449.99
Front derailleur: £99.99
Rear derailleur: £189.99
Cassette: £219.99
Chain: £44.99
Crankset: £529.99
BB: £49.99
Front brake: £159.99
Rear brake: £159.99
Shimano Dura-Ace 9150 (any non-Di2 component is the same price as 9100)
Front derailleur £329.99
Rear derailleur £549.99
Shifters £549.99
Shimano Dura-Ace 9170 (any non hydraulic component is the same price as 9100)
Shifters £499.99 left (with brake caliper), £499.99 right (with brake caliper) / £349.99 each without brake calipers
Brake calipers £129.99 each
Rotors £64.99 (160mm and 140mm)
Thank you for reading 10 articles this month* Join now for unlimited access
Enjoy your first month for just £1 / $1 / €1
*Read 5 free articles per month without a subscription
Join now for unlimited access
Try first month for just £1 / $1 / €1