Squirt Lube chosen to keep CeramicSpeed's super-fast chains going
CeramicSpeed's UFO chains now come packaged with a bottle of Squirt Lube to keep their low friction properties for longer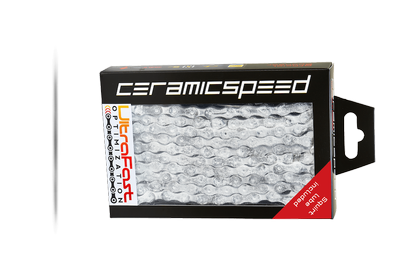 CeramicSpeed's bearings and jockey wheels are popular in the pro peleton. CeramicSpeed boasts of its bearings' and components' ultra-low friction and the power saving which this allows.
>>> Bradley Wiggins' £6000 hour record chain
As well as producing oversized jockey wheels and bottom bracket and wheel bearings, CeramicSpeed also produces low friction chains. Its UltraFast Optimised (UFO to its friends) chains are claimed to save between two and five watts over competitors' products.
How much speed can you buy?
CeramicSpeed (opens in new tab) bought the UFO chain business from Friction Facts (opens in new tab), an independent lab set up in Boulder, Colorado which tests cycling components to independently verify manufacturer's claims of watts saved. As a by-product of this testing it developed a method to clean and treat chains to consistently reduce energy loss from friction. So CeramicSpeed buys in high performance racing chains, treats them to reduce the friction and sells the treated chains as part of its range.
>>> Could this automatic chain lube dispenser make you faster?
The problem comes after around 200 miles, when the CeramicSpeed treatment begins to wear off and friction increases. Now CeramicSpeed has coupled with Squirt Lubes (opens in new tab) to package a 15ml bottle of the lube with its chains, which it recommends is used to relubricate the chain.
Squirt Lube is a wax-based lubricant which is designed to stay clean, stay on the chain and increase drivetrain longevity. Friction Facts tested Squirt Lubes in 2013 and 2014 and determined that it resulted in lower friction in relubed chains than its competitors in a comparative test.
>>> Should you worry about chainline efficiency?
At around 125 Euros upwards for a UFO chain, keeping it working well beyond a couple of hundred miles is obviously an important consideration for non-pros unless they have deep pockets. CeramicSpeed suggests that the relubed chains are best for training rather than being used in key races, but nevertheless it's a good way to keep an expensive component operating at its best.
Thank you for reading 5 articles this month* Join now for unlimited access
Enjoy your first month for just £1 / $1 / €1
*Read 5 free articles per month without a subscription
Join now for unlimited access
Try first month for just £1 / $1 / €1