Strava launches personalised 'My Year in Sport' videos, showing your key stats from 2017
Strava has launched its personalised video service, showing your key stats from the last 365 days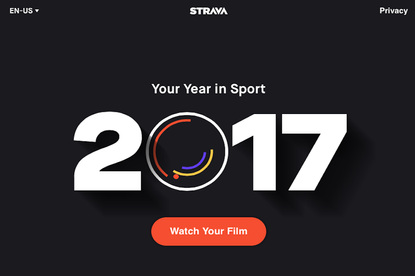 Strava has launched its 2017 personalised Year in Sport videos, available to all members of the social network site.
The videos, which are personalised to individual athletes, show a rider's key stats from the last 365 days, including distance ridden, days active, total elevation, new PRs and much more.
The information is distilled in a neat little video, which features maps of your favourite routes, long ride details, most kudos as well as all your images from the previous year.
Click 2017.strava.com to grant permission to Strava to use your data and see your personalised video.
The personalised videos are compiled as part of Strava's annual Year in Sport campaign. According to the website, over the last year tens of millions of athletes, across 195 countries have uploaded activities to Strava.
Strava says, "it's time to celebrate your 2017 on Strava. You toed the line, you dug deep, you achieved (and maybe made some crazy faces and noises along the way). Check out this personalised recap of your year, and kudos for being a part of Strava's incredible community of athletes".
Some other stats from Strava include the fact that 16 activities were uploaded to Strava every second, a cumulative 8.4 billion km were covered and 2.3 billion kudos were given world wide.
It's been an eventful year for the social media, which included the launch of Strava Posts, a blog like feature that allows you to share more information, stories, recipes or anything else you can think of with your followers.
Thank you for reading 10 articles this month* Join now for unlimited access
Enjoy your first month for just £1 / $1 / €1
*Read 5 free articles per month without a subscription
Join now for unlimited access
Try first month for just £1 / $1 / €1