This 3D printed, made to measure, one piece carbon bike will soon be available
No joins or glue... but how will it ride?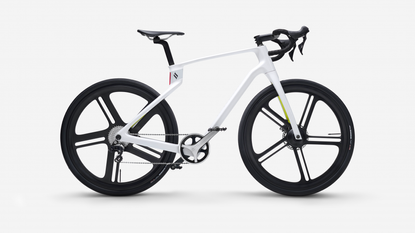 Silicon Valley bicycle brand Superstrata has unveiled a 3D printed, made to measure bike that's constructed from a single piece of carbon.
This means there are no joins or glue, and the brand says that the carbon fiber thermoplastic composite used is 'extremely impact resistant'.
The company behind the Superstrata - Avero - showcased a prototype carbon, 3D printed bike back in 2018. The brand said this robotic method of production could put an end to frame failures and quality control issues that have arisen around traditional carbon frame manufacturing.
Most frames (exceptions include Liv's Langma) are constructed using two parts and then bonded together, but this avoids the need for that join. The 3D printing method also does away with the hundreds of small pieces of carbon layed into the mould in traditional construction.
Superstrata say that the bike can be tailored to a rider's height, weight, arm and leg lengths, riding position - and customers can even tune the stiffness level. There's a reported '50,000+ possible combinations'.
The bike is available in two guises - the Terra, or the Ion e-bicycle. The Ion has a range of around 55-miles (depending upon rider weight, terrain ridden and so on). The frames weigh around 1kg, and 1.2kg respectively (that's frame and fork as one).
This isn't an 'endurance bike', a 'gravel bike' or a 'race bike' - since so much is tunable, the brand says that the bike can be tailored to the intended use. Superstrata produces its own wheels, with carbon or alloy options on offer.
The only colour options are 'light' or 'dark'.
Both bikes use disc brakes, and a look through the brand's Instagram page suggests that there are inbuilt lights.
Designer Bill Stephens said: "This bike was designed to leverage all the benefits of this new manufacturing technology to get the best of both worlds: strength and lightness."
The bike has the backing of two-time Olympian and track sprinter Sky Christopherson, who said: "My bikes were light, but would often crack if I pushed them too hard. Having a bike that's light like other carbon fiber bikes but is actually really tough is a dream come true. And the design is bold, especially for a composite bike."
The Superstrata Terra Bicycle will retail for $2,799 and the Ion E-Bicycle for $3,999, UK pricing is yet to be confirmed. Both are available for pre-order now. Shipping begins in December 2020.
In 2016, a team of five students at the Technical University of Delft, Netherlands, designed a steel bike using 3D printing.
The bike was made by a mechanical slave which welded pieces of steel onto individual wires, to construct the full frame - the process took about 100 hours.
Thank you for reading 20 articles this month* Join now for unlimited access
Enjoy your first month for just £1 / $1 / €1
*Read 5 free articles per month without a subscription
Join now for unlimited access
Try first month for just £1 / $1 / €1