Titanium Aspect road bike launched by Mason Cycles
Now titanium frameset joins steel and alloy road-going bikes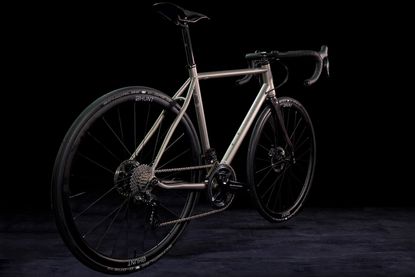 As well as its radical ISO, Mason has also just launched the Aspect. Mason says that the Aspect "is designed to be a super-smooth, fast, ultra-endurance rocket ship for longer rides on hard surfaces."
It's a titanium framed bike from the same stable as the aluminium Definition 2 and the steel Resolution 2. So it's designed for fast rides on tarmac, but also with the capability to take on some off road and accept wider tyres for improved grip and off road handling.
Mason says that it's tweaked the Aspect's geometry from that of the Resolution 2 to add rider comfort and reduce fatigue when riding longer distances.
The Aspect frame is made of a mix of tubing from Italian brand Dedacciai with titanium chainstays from Reynolds in the UK. Like the titanium version of the Bokeh, the Aspect uses 3D printed titanium dropouts from Reynolds at the rear and is craftsman built in Tuscany. This leads to limited production and the titanium Bokeh has built up a significant customer waiting list.
The Aspect comes with the same Aperture2 all-carbon fork and alloy or carbon Hunt wheel options as its aluminium and steel cousins too. With such a limited output, you can work with Mason to spec the bike as you want, rather than having to choose from a more limited range of pre-specced options.
>>> Inside the Mason Progressive Cycles Bike Barn
Like the Resolution 2 and Definition 2, the Aspect uses thru-axle wheels, flat mount disc brakes and has eyelets for mudguards and racks. There's a BSA threaded bottom bracket shell and internal cable routing.
The Aspect frameset is priced at £3250 and you can buy a "rolling chassis" comprised of the frameset with Mason's Penta carbon seatpost and a choice of five different Hunt wheelsets, with prices starting at £3574. Mason also offers bespoke builds to suit your requirements, starting at £4845.
Thank you for reading 20 articles this month* Join now for unlimited access
Enjoy your first month for just £1 / $1 / €1
*Read 5 free articles per month without a subscription
Join now for unlimited access
Try first month for just £1 / $1 / €1