CeramicSpeed adds Shimano-compatible version to its OSPW-X off-road pulley system
CeramicSpeed's oversize pulleys offer 30% to 40% lower friction in the rear mech than standard jockey wheels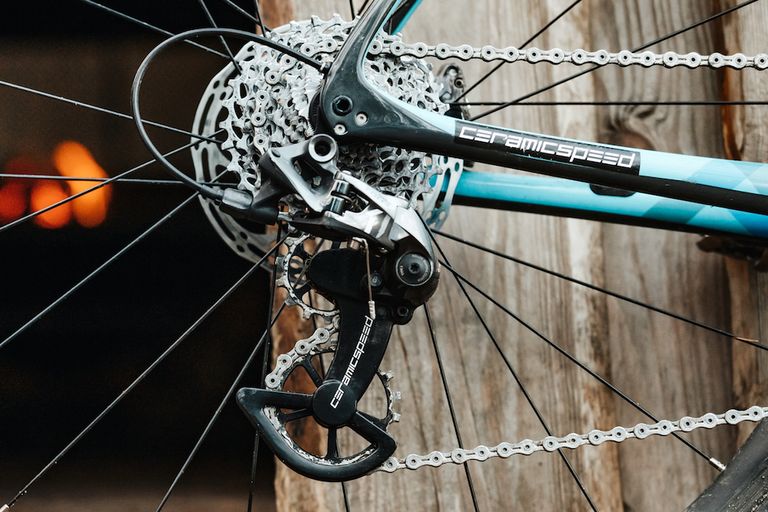 Back in January, low friction bearing specialist CeramicSpeed launched its OSPW-X off-road pulley system. As well as CeramicSpeed's bearings, this also features oversized jockey wheels with a wide/narrow tooth profile to mesh more closely with the two link widths in the chain. There's also a new lightweight carbon fibre mech cage.
Now there's a new version, compatible with Shimano's Ultegra RX mechanical and Di2 clutched rear mechs, alongside the SRAM Force 1 and Rival 1 compatible versions announced in January. All are hand built in Denmark.
CeramicSpeed says that the OSPW X pulley system is designed for off-road riding and offers 30% to 40% less friction than a conventional pulley system. It was used and abused last cyclocross season by rising star Tom Pidcock.
Clutched rear mechs have been shown to generate greater friction in the drivetrain than a non-clutched mech, although that's balanced out by the more consistent chain tension leading to less chainslap, better pedalling dynamics and less risk of losing a chain over uneven surfaces.
CeramicSpeed says that the new OSPW X is the first oversized pulley wheel system designed to work with clutched mechs and helps to lower that efficiency gap.
According to CeramicSpeed's executive vice president Martin Banke: "When we realised our first OSPW System back in 2015, we always knew the product could provide major benefits to the off-road rider.
"We have learnt so much over the years in developing OSPW Systems. Gravel and CX is the natural progression from road. With thousands of testing kilometres banked, this is a brilliant product that is already proven in the harshest environments."
>>> CeramicSpeed Driven: no chains, no mechs for a super-efficient drivetrain
CeramicSpeed offers a warranty of up to six years on the OSPW X system. Given the damage that muck and water can do when riding off-road, that shows a lot of confidence in the new system's durability. It claims that its pulleys will last between three and five times as long as a standard cage.
The new Shimano-compatible version will be on display at Sea Otter this week, alongside the SRAM-compatible version.