Zipp reveals new 858 NSW wheels with 'humpback whale-inspired' design and £3,730 price tag
Deeper version of 454 NSWs will be available from November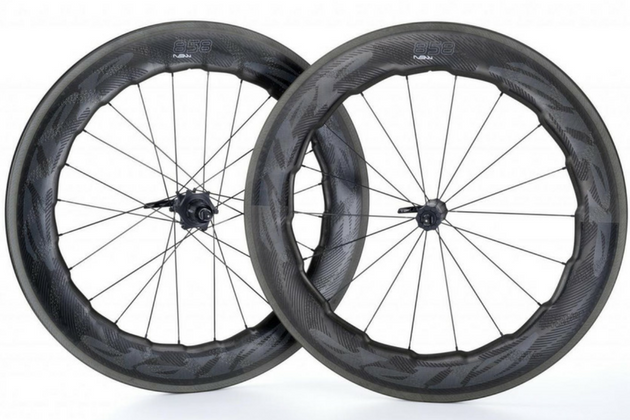 Fans of funky looking wheels can look forward to new offering from the other side of the pond, as Zipp releases its new 858 NSW wheels, featuring the same "humpback whale-inspired" design as the shallower Zipp 454 NSW wheels launched late last year.
The most eye-catching feature of the new Zipp 858 NSW wheels is undoubtedly the undulating which varies in depth at between 77mm and 82mm.
>>> Zipp goes wider, tubeless, and disc brake specific with NSW and Firecrest ranges
This design, called Sawtooth, was apparently inspired by "the irregular shape of the leading edge of humpback whale pectoral fins, which help provide this giant creature with speed and manoeuvrability."
According to Zipp this helps to reduce aerodynamic drag and improve stability in crosswinds, the latter being something that most wheels as deep of these struggle with.
Watch: Zipp 808 wheels - first look
Like their shallow 454 NSW cousins, the Zipp 858 NSW wheels also feature the company's Showstopper braking surface, which it claims will provide riders with enhanced confidence and stability with "braking performance that is superior to aluminium rims, even when wet", although in our experience this wasn't the case with the previous Zipp 808 NSW wheels.
If you want to move on from rim brakes, then you'll be glad to hear that Zipp is also offering its new wheels in a disc brake version, which are identically priced although marginally heavier than the rim brake version.
>>> Zipp launches debut tubeless tyres with new 25mm and 28mm Tangente range
On the subject of weight, the rim brake Zipp 858 NSW wheels weigh a claimed 808g for the front and 942g for the rear, while the disc brake versions hit Zipp's scales at a claimed 850g and 984g.
Finally, we have to come on to the price, which is a pretty whopping £1,695 for the front and £2,035 for the rear. Yes, maths fans, that's £3,730 for the pair, making the Zipp 858 NSW wheels surely the most expensive wheels on the market.