Zipp launches debut tubeless tyres with new 25mm and 28mm Tangente range
Zipp announces its first steps into the tubeless tyre market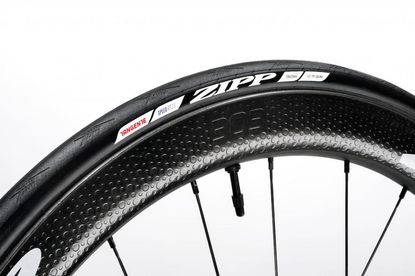 Wheel brand Zipp has announced its first steps into the tubeless tyre market, releasing the Zipp Tangente Speed RT25 and RT28 tyres.
According to the company, these are "race-orientated" tyres, which compete with the best of other brands, having been independently tested.
>>> What effect do tyres have on aerodynamics
So, what's the deal with them? Well, as the name suggests, these are 25mm and 28mm tubeless clincher tyres, with Zipp increasing the width "to meet the preferences for wider tyres among today's road riders".
The new rubber has 127 TPI nylon casing, which the company hopes will provide "low rolling resistance, high cornering grip, provide speed and stability in any situation".
Watch: Are tubeless tyres indestructible?
Both tyres are made from 60 ShA durometer rubber, and Zipp reckons you don't need any tyre levers for installation, which should keep your nice carbon wheels protected.
Zipp has said that "the Tangente Speed RT25 and RT28 are Zipp's first tubeless-specific tyres and build on Zipp's standing as a technology leader with its full Tangente tyre line-up of tubular, clincher and now high-performance tubeless tires."
The Tangente Speed RT25 and RT28 are based on the American company's clincher models, the Tangente Course R28 and R30 models.
Zipp is keen to assert that the tubeless ready tyres can pair with a number of its tubeless ready wheels, including the 303 Firecrest Carbon Clincher Tubeless Disc Brake, the 30 Course Disc brake and 30 Course Rim Brake.
Current plans are for the RT25 to be available for purchase in June, whereas the RT28 will be available later, in August.
Thank you for reading 10 articles this month* Join now for unlimited access
Enjoy your first month for just £1 / $1 / €1
*Read 5 free articles per month without a subscription
Join now for unlimited access
Try first month for just £1 / $1 / €1