Zipp goes wider, tubeless and disc brake specific with NSW and Firecrest ranges
Zipp has just announced new products, including eight new tubeless, disc specific wheelsets and its own proprietary tubeless tyres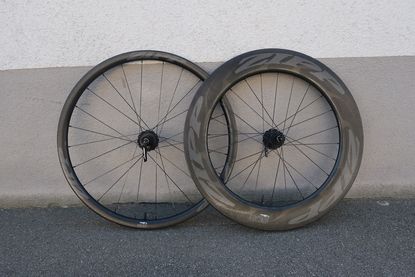 Updated, tubeless and disc brake specific versions of Zipp's NSW and Firecrest wheels have just been revealed. Currently the NSW and Firecrest lines are available in a series of depths starting with the shallow 202, sequentially increasing in depth with the 303, 404 and 808.
All of these depths will now be available with tubeless ready disc brake specific rims. Previously Zipp only offered the Firecrest 303 as a tubeless offering. We tested this wheelset on the Whyte Wessex, so you can read about it here.
Being disc brake specific, means that Zipp's signature dimples now extend across the whole wheel rim which is in contrast to rim brake wheel rims where the dimples ended with the brake track. Zipp claims that the dimpled surface helps reduce drag.
>>> Review of the Zipp 808 NSW
According to Zipp engineer Michael Hall, "Zipps sole mission is to make athletes faster." Hall believes this is not as simple as just looking at aerodynamics, suggesting that tubeless tyres offer a significant advantage.
Zipp believes tubeless offers "better cornering grip, lower rolling resistance, enhanced comfort and less chance of a pinch flat." In conjunction with the new wheels, Zipp has also launched a proprietary tubeless tyre, which is claims has "lower rolling resistance and more grip than two leading competitors tyres." Unfortunately Zipp refused to comment on which competing tyres these were.
In a bid to further optimise performance, Zipp has increased the width of its wheels to aerodynamically optimise them for wider tyres. The 404 and 808 depths are now optimised for 25mm tyres with a 19mm internal width, while the 202 and 303 are now aerodynamically optimised for 28mm tyres, with an internal width of 21mm.
This trend for wider, tubeless rims and aerodynamic integration of the tyre and rim were also key attributes of the new DT-Swiss wheels launched earlier this year.
Despite the increased width, Zipp claims that the new wheels are the same weight as the previous rim brake versions.
Zipp is also claiming that the set up of its own tubeless tyres and wheels is easy. In the past some tubeless tyre and wheel combinations have been difficult.
Zipp also launches a 650b wheel
Earlier this year, we reported that Canyon was to offer bikes for smaller riders, built around the 650b wheelset standard. As part of this developing trend, Zipp has also revealed a new Firecrest 303, tubeless ready, disc brake wheel in the 650b standard.
The rim width is 21mm internal with a 1595g set weight per pair. Zipp also believes the 650b standard has performance potential in gravel riding too.
The Zipp NSW wheels feature the "Cognition hubset" with the axial clutch that is able to disengage the plates via a magnet, to reduce friction when coasting. Firecrest wheels are equipped with the more affordable 77/177D hubset. Nipples remain external and the disc brakes are centre lock. At present there are no rim brake, tubeless versions offered.
Out of the box, the hubs also allow for conversion from QR to thru axel, with end caps included. XDR, HG and Campagnolo hub bodies are available too. Availability of the new wheels is set for October 2017.
Thank you for reading 10 articles this month* Join now for unlimited access
Enjoy your first month for just £1 / $1 / €1
*Read 5 free articles per month without a subscription
Join now for unlimited access
Try first month for just £1 / $1 / €1
Oliver Bridgewood - no, Doctor Oliver Bridgewood - is a PhD Chemist who discovered a love of cycling. He enjoys racing time trials, hill climbs, road races and criteriums. During his time at Cycling Weekly, he worked predominantly within the tech team, also utilising his science background to produce insightful fitness articles, before moving to an entirely video-focused role heading up the Cycling Weekly YouTube channel, where his feature-length documentary 'Project 49' was his crowning glory.