Canyon bring 650b to the road with disc only WMN launch
Three new entirely female specific frames from Canyon after three years of research and development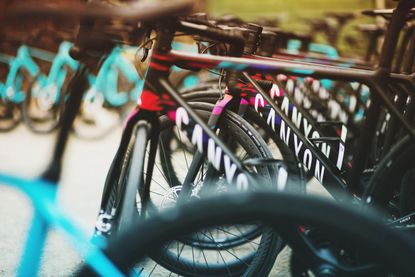 Canyon bikes has launched its first range of female specific frames, offering a carbon and aluminium Endurace and a carbon Ultimate chassis – each with a unique 'WMN' geometry.
All three frames are available with disc brakes only, and the Canyon/SRAM women's pro team plan to start the Tour of California aboard the rotor equipped Ultimate.
In a bid to offer smaller riders the same quality of handling enjoyed by their taller colleagues, Canyon has developed their smallest frames around a 650b wheel size that caters for women down to 152cm.
Canyon claim to bring an alternative to what they call 'watered down', 'half baked' and 'over complicated' women's bikes with their three new frames.
>>> Read more: The best women's road bikes
The WMN range from Canyon
Cycling Weekly visited the brand HQ in Koblenz as they launched the model family, where we had the chance to take a spin on both the Ultimate WMN CF SLX Disc and the Endurace WMN CF SL Disc - leaving only the Endurace WMN AL Disc we've yet to try.
The Ultimate WMN CF SLX will retail from £2,649, with a SRAM Force groupset, at £2,999 with Shimano Ultegra and £2,899 with Ultegra Di2. The top end version will feature SRAM Red eTap and Reynolds Assault wheels for £5,499 whilst all other models sport DT Swiss hoops.
On the endurance side, the Endurace WMN CF SL Disc starts at £1,799 with Shimano 105, with Ultegra for £2,199 and SRAMRed eTap at £4,199. All models will feature DT Swiss wheels, save for a limited edition model with Reynolds Assaults for £5,299.
Keen to ensure the bikes were accessible whilst maintaining a high standard, Canyon have specced the Endurace WMN AL Disc with Shimano 105 for £1,349 and Ultegra for £1,499.
The creation of the Canyon WMN range
The brand employed ex-sponsored rider Katrin Neumann as Women's Product Manager when Canyon became aware that it needed a female perspective if the German brand were to create women's bikes - and in 2016 it became the title sponsor of UCI pro women's team, Canyon/SRAM.
Canyon's goal: to develop a high quality women's frame, based on athlete feedback and customer data.
It began with the question 'do we need to create a women's bike?'
Based on the measurements from 60,000 female customers, Canyon tell us its data paints a picture of the average woman as being shorter, lighter, and producing less power. A casual glance at your average collection of club riders could probably tell you that.
But alongside narrower shoulders, Canyon also found women had an average wing span 2cm shorter than a man of equal height, as well as greater pelvic flexibility.
If the arm length discrepancy was hard and fast fact, it meant that an average female rider, of identical height to an average male rider, would generally be riding in a more stretched position when aboard an identical bike.
The answer then was yes – they needed a women's bike.
Frame development doesn't happen overnight. In the interim, Canyon offered female specific finishing kits on their existing models. That was just a stop gap - the new range is the real deal.
Neumann explains the key shifts in geometry, saying: "We position the women in the same way that we do men on a bike - taking into account the average differences between measurements. In average, we have shortened the top tube a little bit and lengthened the head tube a bit - but it is different in every size.
"Each frame size has been developed as an individual frame - the differences are greater on the smaller frames."
Both bikes have been on a diet – with slimmed down tube profiles in answer to the lower body mass and stiffness requirements of female riders. This also provides an aerodynamic advantage, with the Ultimate carrying a drag reduction of 3 per cent on the current unisex iteration as well as a 6.5 per cent reduction in weight.
An XS Ultimate frame weighs in a 765g, with disc brakes and flat mount 12mm thru axels. The bar and stem are integrated as per the cockpit of the existing Ultimate, with a 5 watt saving thanks to narrower handlebars.
The Endurace offers a more relaxed geometry, in a 'sport' fit across the carbon and aluminium models.
Malleable carbon allowed Canyon to create a 'comfort kink' in the downtube, with a notable curve at the centre which they say increases flex - alongside the dampening VCLS 2.0 seatpost.
Introduction of 650b wheels
Across the range, models start at 3Xs, progressing to a Medium - with 650b wheels featuring on the 3XS and 2XS chassis.
Canyon claim that a small frame, accommodating a 700c wheel, will always suffer in the handling department as a result of the enforced slack head angle and long trail required to make the pieces of the jigsaw fit together. With a smaller wheel, optimum values can be upheld.
Asked why the marginally more common 650c size was discarded as an option, Neumann explains: "A 650c wheel is very, very small. The 650b size allows better rolling resistance."
The wheels have been provided by Reynolds and DT Swiss hubs and Schwalbe One tyres – and Canyon hope more manufacturers will follow the trend, making materials eventually more readily available.
Models featuring the 650b wheel size have mid-compact chainsets (52/26) as opposed to the compact (50/34) found on 700c versions.
Canyon/SRAM team rider Tiffany Cromwell is 166cm tall, sitting on the fence between a 2XS and XS frame size - she's tried both - and said: "When they first came to us, we were all quite sceptical. Trixi [Worrack - who is 160 cm tall] was the first to try it, and straight away she saw a big difference."
She praised the acceleration of the 650b wheel size, saying: "When you've only ever had one thing, you don't really think about it - but now maybe I think riding 700c could have given me a disadvantage - I think about all the one and two seconds in races that could have made a difference."
Disc brakes as standard
All of the bikes in the range feature disc brakes. The Canyon/SRAM team will ride them in amongst the pro peloton at the Tour of California, starting on May 11.
Talking about potential dangers posed by the rotors, Cromwell said: "At first you're like 'yea, yea, it's just the boys being princesses' - there's always going to be haters and lovers of everything. On the women's side, I think it's barely been talked about because so many brands haven't even offered women's teams the option to ride them.
"If you're going to crash, you're going to get injuries... there is that chance, but it's not something I think about. If it means performance and safety benefits overall, then I'm ok with that."
She added: "Of course there are some brands that aren't ready for it, and will say it's a bad thing."
The disc only offering might be acceptable to the Canyon/SRAM pros - but it does mean women racing the domestic scene in the UK will have to wait for British Cycling to legalise disc rotors in races run under their jurisdiction.
The ride
The riding around Koblenz provides the perfect playground for bike testing.
Beginning on the Endurace, we roll out on flat roads, towards a gradual climb of around ten minutes. I'm aboard an XS frame, so unable to test the 650b size - but chatting away to Cromwell who is indeed more enlightened.
The Endurace frame is designed to be comfortable - and I've got to admit I fall into the camp of women inclined to be significantly turned-off by that adjective. However, in this case whilst the road buzz is dampened, I don't feel separated from feedback entirely - there's enough there that the frame is still lively.
Cresting the climb, the road gives way to a long descent - and it's true that the bike handles accurately. There's a brief flat stretch designated for sprint testing - though I realise this too late and give the bike a proper test as I chase after those who had prior warning. There's enough stiffness there to yield excitement.
I enjoyed the ride - but I can't mask that it was the Ultimate I really wanted to try. Good thing that was up next.
Aboard the Ultimate, imperfections of road surface are significantly more marked - but the integrated seat posts means there's some spring and comfort built in too. There's a stiffness in the front end that reminds me just a tiny bit of the anticipation that comes when astride a horse that knows we're about to canter (this isn't a completely uneducated comparison, I did ride horses before bikes).
Climbing feels strong on our second ascent of the day - and in this case our group splinters, giving each of us a real chance to test the bike at the greatest speed we can muster. The integrated handlebar provides a stiff platform - but it's not so solid that it feels like a new experience compared to a standard set up - as some do.
Obviously, I like this bike more - but that's down to personal preference.
What is notable is that I'm not laboured in the lower back at all, on either bike. Comfort on a bike is personal - and I'm loath to speak for 'all women'. But.
As an individual - I felt a little upright on the Endurace - but absolutely perfect on the Ultimate. Is that because it's women's specific, or because the bike just happens to suit me? Hard to say. I don't claim to possess a database of 60,000 female measurements.
The model family
The Ultimate WMN CF SLX
Ultimate WMN CF SLX 8.0 Disc Team CSR - £2,649 - SRAM Force, DT Swiss PR 1600 Spline DB 23 wheels
Ultimate WMN CF SLX Disc 8.0 - £2,999 - Shimano Ultegra, DT Swiss PR 1400 DICUT DB 21 wheels
Ultimate CF SLX 8.0 Di2 Disc WMN - £3,899 - Shimano Ultegra Di2, DT Swiss PR 1400 DICUT DB 21 wheels
Ultimate WMN CF SLX Disc 9.0 Team CSR - £5,499 - SRAM Red eTap, Reynolds Assault LE wheels
Endurace WMN CF SL Disc
Endurace WMN CF SL Disc 7.0 - £1,799 - Shimano 105, DT Swiss PR 1600 Spline DB 23 wheels
Endurace WMN CF SL Disc 8.0 - £2,199 - Shimano Ultegra, DT Swiss E 1800 Spline DB 23 wheels
Endurace WMN CF SL Disc 9.0 SL - £4,199 - SRAM Red eTap, DT Swiss E 1600 Spline DB 23 wheels
Endurace WMN CF SL Disc 9.0 Ltd - £5,299 - SRAM Red eTap, Reynolds Assault LE wheels
Endurace WMN AL Disc
Endurace WMN AL Disc 6.0 - £1,349 Shimano 105, DT Swiss E 1800 Spline DB 23 wheels
Endurace WMN AL Disc 7.0 - £1,499 Shimano Ultegra, DT Swiss E 1800 Spline DB 23 wheels
Thank you for reading 20 articles this month* Join now for unlimited access
Enjoy your first month for just £1 / $1 / €1
*Read 5 free articles per month without a subscription
Join now for unlimited access
Try first month for just £1 / $1 / €1