Zipp just announced a comprehensive list of updates to its NSW and Firecrest lines
The trickling down of technology sees Zipp's Firecrest models get a face lift and NSW tubeless rim braking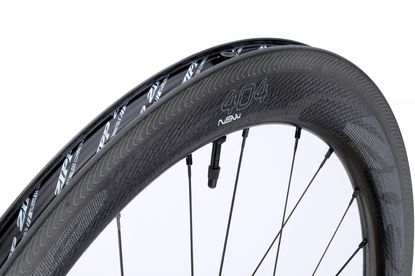 In total, Zipp has announced updates for six wheelsets across both its NSW and Firecrest ranges.
The take home announcement for the NSW range is that the wheels, including the 303, 404 and 808s feature an entirely redesigned, newly tubeless ready rim that is designed to work with wider tubeless tyres.
To be more specific, the 303, 404 and 808 NSW wheels now feature a 19mm internal rim width and have been optimized for 25mm tyres. Internally, the rims now feature ridges that Zipp says will lock the tire's bead in place for secure tubeless performance over rough roads. To us that sounds like Zipp trying to allay the fears a lot of the pro teams have about the security of tubeless tyres.
Previously, only the NSW disc brake wheels had been tubeless ready, but now Zipp has managed to bring together its tubeless know-how and Showstopper Brake Technology to create a rim brake tubeless ready wheel.
Additionally, the wheels feature Zipp's "Aerobalance" technology which gives the wheel low drag whilst also giving high stability. As we've come to expect from Zipp's top end wheels, the rim's also have the ABLC Sawtooth Technology that further reduces drag and apparently improves stability in crosswinds.
The wheels are built around 77/177 hubs which have optimized hub flange geometry and have Sapim CX-Sprint spokes which Zipp says will optimise torsional and lateral stiffness.
The Zipp 303 NSW is the shallowest of the three wheelsets at 45mm and has a claimed weight of 1500g, the 404 is the 58mm rim depth with a claimed weight of 1,620g and the 808 are 82mm deep with a claimed weight of 1,855g. Each wheel has Sapim CX-Ray spokes and comes with a Cognition hubset.
Prices are:
Zipp 303 NSW carbon tubeless rim brake wheel £2,678
Zipp 404 NSW carbon tubeless rim brake wheel £2,678
Zipp 808 NSW carbon tubeless rim brake wheel £2,857
Zipp Firecrest updates
The Zipp Firecrest Carbon Clinchers have been in production since 2010, but with the this update, Zipp has introduced some of its top line technology from its NSW range. Most notably, the wheelsets see the introduction of Zipp's Showstopper Brake technology, with a grooved brake surface for improved braking. It has impressed us in the past so we're pleased to see Zipp making use of it at this lower price point.
The next noticeable change is the introduction of Zipp's ABLC Sawtooth dimples, which the brand says help to reduce high yaw drag and improve crosswind stability. It's a revised rim design that the brand terms 'aerobalance' technology at a Firecrest level. In short, it's Zipp's way of blending aero efficiency and stability.
Just like on the NSW wheels, the updates are spread across the 303, 404 and 808 models. The 303s are 45mm deep and weigh a claimed 1480g, the 404s (the brand's best selling wheels) are 58mm deep and weigh a claimed 1615g and the 808s are 82mm deep and weigh a claimed 1,830g.
Prices are:
Zipp 303 Firecrest wheelset £1,986
Zipp 404 Firecrest wheelset £1,986
Zipp 808 Firecrest wheelset £2,321
Here at CW, we were fortunate enough to receive the 303 Firecrest wheels for a test, so keep your eye's peeled for the review going online soon.
Thank you for reading 10 articles this month* Join now for unlimited access
Enjoy your first month for just £1 / $1 / €1
*Read 5 free articles per month without a subscription
Join now for unlimited access
Try first month for just £1 / $1 / €1