Adam Hansen aiming to ride all three 2016 Grand Tours to continue record-breaking run
Australian Adam Hansen's 14th consecutive Grand Tour will be the Giro d'Italia in May - he also wants to ride the 2016 Tour de France and Vuelta a España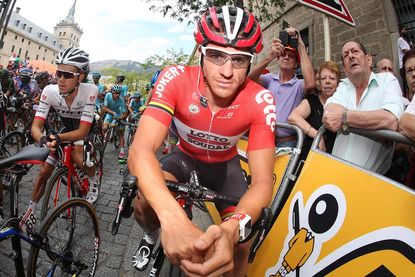 (Image credit: Watson)
Adam Hansen will attempt to continue his unbroken run of Grand Tour finishes at the Giro d'Italia in May, bringing his total to 14.
Australian Hansen's consecutive Grand Tour rides started at the 2011 Vuelta a España, and he has ridden and finished in every Vuelta, Giro and Tour de France since. He broke Spaniard Marino Lejarreta's record of 10 consecutive Grand Tour finishes at the 2015 Giro.
"The Giro will be my 14th consecutive Grand Tour and it's nice that I've come this far," the Lotto-Soudal rider said in an interview on the Giro d'Italia website. "But I treat it as any other race, regardless the number. I want to do this race as much as anyone even though I have done so many Grand Tours.
"To me it has just become something I do. Also this year I am motivated to ride all three Grand Tours."
Hansen's run looked to be in jeopardy at the Tour de France last year, when he dislocated his shoulder as the result of a crash. However, he continued in the race despite the pain of the injury.
Injury and crashes aren't the only factors that Hansen has contended with in his Grand Tour run: there's also the ever-changing weather and relentless climbing.
"It's not all fun of course," said Hansen. "The Giro always has a super hard profile and the weather conditions can be difficult. You know it's going to be a tricky and hard race.
>>> Adam Hansen not giving up on Grand Tour record despite shoulder dislocation
"I already had some good years in the past though, with wins working for André Greipel and for Mark Cavendish many years ago. And then there's of course my own stage win in 2013 in Pescara.
"It was such a difficult stage, the weather was bad and there were so many climbs and crashes and then it's so nice to come in solo in the rain. My first Grand Tour stage will never be forgotten."
Watch: Secrets of the toolbox - Lotto-Soudal
The 34-year-old from Queensland – who celebrates his 35th birthday during the Giro, on May 11 - has two Grand Tour stage wins to his name so far, in a professional career that started in 2007. In addition to his Giro stage win in 2013, he won a stage of the 2014 Vuelta.
As well as being a dependable team worker for Lotto-Soudal, Hansen is a breakaway specialist - the latter is something he's keen on continuing.
"For sure people will see me in action again this edition, in breakaways and aiming for a good result."
Hansen will join Lotto-Soudal team-mates Sean De Bie, Lars Bak, Tim Wellens, Jurgen Roelandts, Pim Ligthart, Jelle Vanendert, Andre Greipel and Maxime Monfort at the 2016 Giro.
Thank you for reading 20 articles this month* Join now for unlimited access
Enjoy your first month for just £1 / $1 / €1
*Read 5 free articles per month without a subscription
Join now for unlimited access
Try first month for just £1 / $1 / €1