Andre Greipel's power data from the Tour of Flanders is ridiculous
Andre Greipel put out over 1000W as he jumped away from the peloton at the Tour of Flanders and the rest of his numbers are just as impressive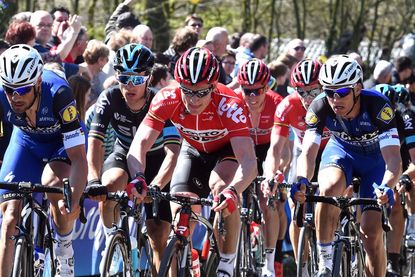 (Image credit: Watson)
It's no secret that Andre Greipel is one of the most powerful riders in the peloton, but his numbers from Sunday's Tour of Flanders are pretty remarkable.
At one point, when he accelerated away from the peloton to join the breakaway riders, the German sprinter topped out at a massive 1248W according to his SRM power file, released by Training Peaks.
But it wasn't just that one acceleration that characterised Greipel's ride, but how he hauled his huge frame up the numerous cobbled climbs.
>>> The importance of power-to-weight, and how to improve yours
His data shows he churned out 391W for 20 minutes as he chased down the leaders at the 155km mark of the race. Leading the race up the Koppenberg, he averaged 501W for 2-22, turning the pedals at 68rpm.
Then, when he reached the finish line (crossing the line in 28th place), he set his peak two-second power value, cranking out a huge 1613W, which equates to 19.4w/kg.
According to Alexander Kristoff's trainer Soren Orn, the Katusha rider put out 1200W in his sprint for fourth place and averaged over 460W for well over an hour during the race.
But perhaps the most impressive statistic of them all, though, is that Greipel rode at 89 per cent of his one-hour max for over six hours in the race.
Reckon you could do that?
Thank you for reading 20 articles this month* Join now for unlimited access
Enjoy your first month for just £1 / $1 / €1
*Read 5 free articles per month without a subscription
Join now for unlimited access
Try first month for just £1 / $1 / €1