Bold action needed from UCI over disc brakes, says Astana boss
Giuseppe Martinelli calls on the UCI to provide leadership over disc brake debate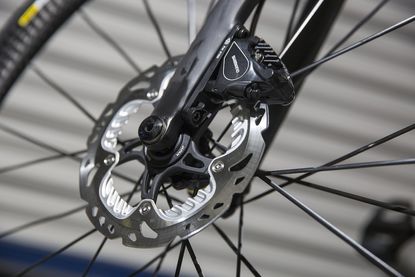 The UCI needs to act strongly over recent disc brake controversies and their use, says Astana team manager Giuseppe Martinelli.
His comment comes a day after Marcel Kittel (Quick Step Floors), who was riding a disc-equipped bike, crashed with Owain Doull (Sky). Doull said that Kittel's rotor cut through his left shoe and foot, and after the peloton's reaction, Kittel decided to switch back to caliper brakes today.
Martinelli tended to Astana's Fabio Aru this morning as the riders prepared to begin stage two from Abu Dhabi's seaside.
"The UCI truly needs to create a date to roll them out, we either go with them or we don't," Martinelli told Cycling Weekly after helping his team's leader.
"We can't go ahead like we've done 1000 times before, with a general opinion that is never made official. Now, it's like whoever has [disc brakes] says that they want to use them, and whoever doesn't puts doubts on their validity.
Martinelli, who won three stages in the Giro d'Italia during his time as a rider in the late 1970s and early 1980s and has directed teams since the 1990s, shook his head. He added, "Like always in cycling, there's much confusion."
Matthew Brammeier (Aqua Blue Sport) wrote something similar on Twitter overnight to the UCI's Technical Manager Mark Barfield. He said, "Stand up Mark Barfield @UCI_cycling. It's time to be bold."
Watch: What do the pros really think about disc brakes?
Last year, Lampre-Merida and Direct Energie used disc brakes in some races, including Paris-Roubaix. So far in 2017, Shimano and Specialized lead the way through the Quick-Step team.
Tom Boonen (Quick-Step Floors) became the first professional to win on them in the Vuelta a San Juan in January. Kittel rode on a disc-equipped bike to victory in the Dubai Tour shortly afterwards.
"We are not pushing anyone to use them," Specialized team liaison Patrizia Falchero told Cycling Weekly.
"As you can see, [Quick-Step] have rim brakes and disc brakes here. They are free to use what they prefer, depending on the race or anything. We believe in both brake systems, and they choose what they want to [use]. We are not pushy."
Kittel said this morning that he decided to use a caliper bike given the opinions expressed by other riders in the peloton overnight. It appeared to be a setback for the disc brake movement and the manufactures involved.
>>> UCI failed to take into account rider fears about disc brakes, claims CPA
"It's respecting what the peloton wants. It's fair enough, we are not pushing them, so he's free to do what he wants," Falchero added.
"What he thinks is better for the race. Maybe he'll start on disc brakes another day, I don't know. He's free to do that.
"I think we need to analyse and be sure what happens before judging or pointing your finger."
Falchero was also unsure whether a disc brake could have caused the cut to Doull's shoe and foot, saying that more analysis was needed into the incident.
"For us, it's not possible, but I can't say what happened officially. It could've been the barrier, it could've been the disc brake, it could've been anything. Before judging, I think we need to analyse it professionally."
Thank you for reading 20 articles this month* Join now for unlimited access
Enjoy your first month for just £1 / $1 / €1
*Read 5 free articles per month without a subscription
Join now for unlimited access
Try first month for just £1 / $1 / €1