Adam Blythe wins Circuit of the Fens road race
British road race round-up (July 26-27): News and results from around the UK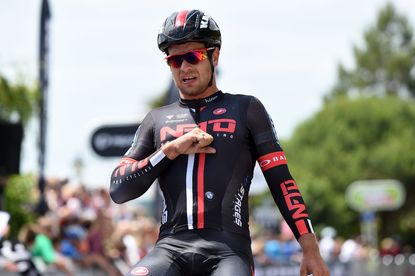 National Circuit Champ Adam Blythe (NFTO Pro Cycling) took victory in an eventful Circuit of the Fens in Cambridgeshire on Sunday.
His win leaves the Series wide open with three races left, with Yanto Barker (Team Raleigh) re-taking top spot from Marcin Bialoblocki (Velosure Giordana), while third place for Russ Downing (NFTO Pro Cycling) saw him move up to third in the overall.
But the race was marred by a crash in the support event, with a rider being air-lifted to hospital with serious injuries. All racing was suspended for an hour, and when they resumed it was a shortened course that faced the riders.
With no breaks having stuck prior to the stoppage, a 12-man break finally got clear, and on the last lap of the finishing circuit it was Blythe who proved strongest, with Chris Opie (Rapha Condor-JLT) second and Downing third.
Silver medallist in the previous week's national championship, Nathan Draper (RST Racing Team) went one better to take victory in the 72-mile Bath Road Club Junior Road Race on the Stewkley circuit in Buckinghamshire.
One more to come off the Isle of Man production line, the 17-year-old led home a 17-strong break to take maximum points in round nine of the British Cycling Junior Series ahead of Lewis Stevens (Strada Sport) with third place going to another Manxman, Leon Mazzone (Team Isle of Man).
Repeated attempts to break up the field came to nothing on the rolling circuit until the elastic broke on the penultimate lap of six, and Joe Fry (RST Racing Team) – winner of the previous round, the Hatherleigh Junior Road Race - worked hard to chase down any attacks and keep the leaders together to set up Draper for the sprint.
James Shaw (HARIBO Beacon CT) continues to hold a clear overall lead in the competition with one round to go, next month's Junior Tour of Wales three-day.
Last year's national junior champion, Chris Lawless (100% ME) chalked up his first win of a season hit by illness and injury in round 11 of the CDNW Road Race League in Cumbria.
Attacking on a crosswind section with just over a mile ago, Lawless soloed away from his last two breakaway rivals to win by 15 seconds from David McGowan (Metaltek-Kuota RT) and Scott McCrossan (Paisley Velo RT).
George Moore (Bibicielo) also opened his season's account as he won Welland Valley CC's 87-mile Duncan Murray Wines Road Race on the Naseby circuit, in Northamptonshire. James Phillips (Dream Cycling) took second place ahead of Jack Rees (Achieve-Skinnergate Racing).
Securing a move up to elite category, Mike Debney led a one-two for Cadence Cycling Performance with victory in the 77-mile London Dynamo Summer Road race in Hampshire.
Debney rode away from the rest of a nine-man front group to win by ten seconds from team-mate William Pratt, who edged Chris McNamara (Pedal Heaven Colbornes RT) into third place.
Three days after winning a round of the Northants CRA Circuit Series at Rockingham Raceway, Rugby-based Joshua Jones (Unatached) claimed a maiden road race victory in the 68-mile VC Venta Summer Road Race in Hampshire ahead of Ashley Martin (Bikeshed-UEX) and Andrew Pickett (VC Venta) after five laps of the Stockbridge circuit.
Age triumphed over youth in Wansbeck CC's 67-mile Thornton Trophy Road Race in Northumberland as Rob Carter (TS Racing Team-Vankru), 39, took the win ahead of 17-year-old Alex Dalton (Squadra RT) and Callum Grieve (www.twenty3c.co.uk).
Gary Davidson (VC Astar Anderside) opened his account for the season with victory in the attest round of the West of Scotland CA Series, Paisley Velo RT's 54-mile Let's Go Round Again road race in Ayrshire, finishing ahead of unattached duo Martin Lonie and Richard McDonald.
British time trial round-up (July 26-27): News and results from around the UK
Thank you for reading 20 articles this month* Join now for unlimited access
Enjoy your first month for just £1 / $1 / €1
*Read 5 free articles per month without a subscription
Join now for unlimited access
Try first month for just £1 / $1 / €1