Alex Blain wins Severn Bridge Road Race
British road race round-up (March 1-2): News and results from the UK road race scene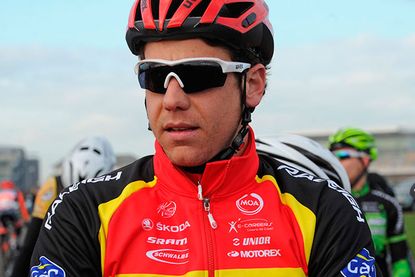 (Image credit: Andy Jones)
Team Raleigh's Alex Blain secured victory in the Severn Bridge Road Race in Wiltshire on Sunday, sprinting to victory ahead of his five breakaway rivals.
The 32-year-old Frenchman took the win by a couple of bike lengths ahead of Marcin Bialoblocki (Velosure-Giordana), while James Lewis (NFTO Pro Cycling) was not far behind in third.
Blain – who had finished seventh in the previous day's Eddie Soens Memorial at Aintree Racecourse – was part of the initial break which went clear on the first of three laps of the 20-mile Malmesbury circuit.
While other riders came and went, Blain stuck grimly at the front and took the win, while the conditions proved too many for around 25 of the 80 starters with the undulating course providing little cover from the wind and drizzle.
Elsewhere, Graham Briggs (Rapha Condor-JLT) went one better than the second place he secured in Saturday's Eddie Soens Memorial when he won the first round of the CDNW Road Race League at Pimbo, Lancashire, on Sunday.
The Doncaster 30-year-old took the win by just two seconds from NFTO Pro Cycling rival Jon Mould at the end of the 80-kilometre race, while Simon Wilson (Wheelbase-Altura) completed the podium in third.
Finishing off a good day for Rapha Condor-JLT, Richard Handley and Hugh Carthy took fourth and fifth respectively to place three riders in the top five.
Further south, Crest CC staged their Spring Road Race near Great Chesterford in Essex, and victory went to Jack Beezer (Arbis Colbert). The 24-year-old from Leighton Buzzard held off Gunther Zechmann (London Phoenix CC) for the win, while Adam Capes (Finchley RT) was third.
Second in the Severn Bridge Road Race, Marcin Bialoblocki (Velosure-Giordana) won the third and final round of the Springtime Pursuit Series in Devon on Saturday – but the event was marred by a bad crash.
A touch of wheels just after all the handicap groups had come together left one rider with a serious head injury which resulted in his being airlifted to hospital, while another two suffered broken collar bones and numerous others were nursing cuts and bruises.
Meanwhile, Peterborough CC were celebrating a one-two in the first round of the Northants CRA Series on the Naseby circuit, with Chris Demoulin taking the win narrowly ahead of team-mate Steve Wood, while Tim Smith took third for Welland Valley CC.
And in the Velo29 Spring Races on the Croft motor racing circuit in North Yorkshire, Jack Barrett (The Racers) won by almost a minute and a half from Martin Lonie after escaping on lap ten. Meanwhile, Martin Hopkinson (Fietsen Tempo) was just two seconds behind Lonie in third.
British time trial round-up (March 1-2): News and results from around the UK
Thank you for reading 10 articles this month* Join now for unlimited access
Enjoy your first month for just £1 / $1 / €1
*Read 5 free articles per month without a subscription
Join now for unlimited access
Try first month for just £1 / $1 / €1
Snowdon Sports is a long-established independent sports news agency, which supplies editorial to a range of media outlets - such as Cycling Weekly - as well as sports governing bodies. Snowdon Sports often covers results at Cycling Time Trials events in the UK and has long been a source of information and imagery to Cycling Weekly.