The all-time list of British male pro road cyclists
Cavendish, Wiggins, Froome, Thomas, Millar, Simpson, Boardman... Who is the best British male road cyclist of all-time?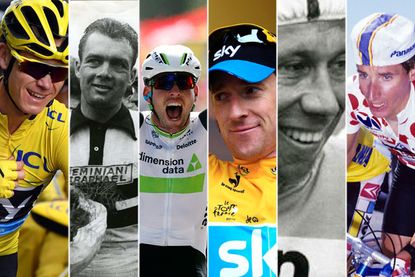 Who is the best British male road cyclist of all-time? Cycling Weekly has devised a ranking system to try to answer the question once for all.
Our list will no doubt create controversy because many British cycling fans are divided. Is Mark Cavendish the greatest Briton, or should it be Robert Millar? Or Bradley Wiggins, Chris Froome , Geraint Thomas or Tom Simpson?
As many readers pointed out, ranking purely by wins isn't necessarily the best system to determine who's the greatest. Froome easily tops the league thanks to his Grand Tour dominance, but Simpson won many of the very biggest one-day races in the world. And is Robert Millar, with just 16 victories, still a better stage racer than Wiggins, with his Tour de France win?
So, we devised a points system that is weighted towards rewarding success in the biggest and most prestigious races.
And we've recognised the importance of wearing the leader's jersey in a Grand Tour or winning the king of the mountains or points competitions by awarding points for these achievements too.
Then we scoured the record books for every result that counts towards our list since racing resumed after World War Two, and we've come up with Cycling Weekly's all-time list of British male pro road riders.
Let the debate commence.
The all-time list of British male pro road riders
Last update September 10, 2019.

1. Chris Froome 6,310 points [Pro: 2007-present]
2. Mark Cavendish 4,010 points [Pro: 2007-present]
3. Robert Millar 2,900 points [Pro: 1980-1995]
4. Bradley Wiggins 2,710 points [Pro: 2002-2016]
5. Tom Simpson 2,545 points [Pro: 1958-1967]
6. Geraint Thomas 2,005 points [Pro: 2006-present]
7. Chris Boardman 1,965 points [Pro: 1993-2000]
8. David Millar 1,580 points * [Pro: 1997-2014]
9. Barry Hoban 1,455 points [Pro: 1962-1981]
10. Simon Yates 1,210 points [Pro: 2014-present]
11. Michael Wright 800 points [Pro: 1962-1976]
12. Adam Yates 775 points [Pro: 2014-present]
13. Max Sciandri 675 points ** [Pro: raced as a British rider 1995-2004]
14. Sean Yates 635 points [Pro: 1982-1996]
15. Brian Robinson 605 points [Pro: 1952-1963]
16. Ben Swift 470 points [Pro: 2007-present]
17. Steve Cummings 425 points [Pro: 2005-present]
18. Malcolm Elliott 380 points [Pro: 1984-1997]
19. Ian Stannard 370 points [Pro: 2007-present]
20. Alex Dowsett 270 points [Pro: 2011-present]
21. Roger Hammond 235 points [Pro: 1998-2011]
22. Jeremy Hunt 230 points [Pro: 1996-2012]
23. Luke Rowe 180 points [Pro: 2012-present]
24. Vin Denson 155 points [Pro: 1959-1969]
25. Alan Ramsbottom 150 points [Pro: 1961-1966]
* David Millar: Points for results that were stripped after admitting he had doped are not included (for example world time trial championship 2003).
** Max Sciandri: Only points scored from 1995 onwards, when Sciandri took out a British racing licence, are included.
Scroll down to see how the points have been allocated
Analysing CW's ranking

Chris Froome is the British number one after winning the 2013, 2015 and 2016, 2017 editions of the Tour de France, plus a victory in the 2017 Vuelta a España, a victory in the Giro d'Italia in 2018, and second places in the 2011, 2014 and 2016 editions of the Vuelta, second place in 2012 Tour and third place in the 2018 Tour.
From humble beginnings, Froome established himself as one of the world's foremost stage racers, with victories in the Critérium du Dauphiné, Tour de Romandie, Critérium International, Tour of Oman and Vuelta a Andalucia to add to his Grand Tour success.
When Mark Cavendish won the sixth stage of the 2013 Giro d'Italia he moved ahead of Robert Millar in our ranking. Though - as a pure sprinter - he will never win a Grand Tour it is the sheer number of his wins that impresses, including 30 stage wins in the Tour alone.
Cavendish has also rewritten the British cycling history books. He is the first British rider to win four stages in a single Tour de France (2008) and has since won six in one edition of the Tour (2009), taken the Tour's green jersey (2011) and road race World Championship title (2011).
Scotland's Robert Millar is third in the ranking. In 16 years as a professional (1980-1995), Millar was one of the finest climbers in the peloton.
Millar finished on the podium at the Giro d'Italia (second in 1987) and the Vuelta a España (second in 1985 and 1986). Millar's fourth place in the 1984 Tour de France was the highest by a British rider at that point. That year he also won the polka-dot jersey as king of the mountains.
That Millar is one of Britain's greatest ever stage racers is in little doubt. But it wasn't just in the Grand Tours that Millar excelled. He also won the Dauphiné Libéré (1990) and Volta a Catalunya (1985). His best one-day performances were sixth in the World Championships road race in Barcelona in 1984, and third in the 1988 Liège-Bastogne-Liège.
Bradley Wiggins' transformation from Olympic gold-medal winning track rider to Grand Tour contender first came to the fore in the 2009 Tour de France, where he equalled Robert Millar's record in fourth overall. Wiggins' result was later upgraded to third after Lance Armstrong's results were wiped from the record books for doping. Crashing out of the 2011 Tour, Wiggins subsequently recovered to take third in the Vuelta behind Chris Froome in second.
Then in 2012 it all came right for Wiggins, winning Paris-Nice, Critérium du Dauphiné and Tour de Romandie on his way to becoming the first British rider to win the Tour de France overall. Olympic gold followed in the time trial.
What our ranking doesn't take into account is Wiggins' success on the track. With seven Olympic track medals, four of them gold, it's hard to argue against Wiggins being Britain's greatest all-round cyclist.
Tom Simpson also deserves to be recognised as one of the greatest Britons, and while the Millar's Grand Tour performances give him the edge in our ranking, there is no doubt Simpson's palmarès is stronger.
In the 1960s he won the world professional road race title and three of the one-day races universally recognised as the Monuments of cycling - Milan-San Remo, the Tour of Flanders and Il Lombardia. Add to that a sixth-place finish in the Tour de France and a string of other top-10 finishes in the Classics.
Geraint Thomas became Britain's third ever Grand Tour winner with his victory in the 2018 Tour de France, where he also took two stage wins.
Like Wiggins, Thomas transformed himself from double Olympic gold medallist on the track, to Classics contender, to stage racer and eventually a Tour de France winner. Thomas has taken stage victories in Paris-Nice and the Critérium du Dauphiné as well as winning cobbled Classic E3 Harelbeke and top-10 finishes in Paris-Roubaix and the Tour of Flanders.
Many fans still consider Chris Boardman to have been a time trial specialist with very few other strings to his bow, but a closer examination of his career shows that to be an unfair assessment.
Yes, the great majority of Boardman's 41 wins were achieved in time trial stages, and he never made an impression on the general classification of the Tour de France or the one-day Classics. But he did finish second and fifth overall in the Dauphiné Libéré and third in Paris-Nice, results which are sometimes overlooked.
David Millar's first Tour de France stage win came in 2000, and his last in 2012. He has led all three Grand Tours, and won stages in each.
In ninth place is Barry Hoban, who clocked up a lot of points by winning eight stages of the Tour de France and Ghent-Wevelgem but was also third in the Tour's green jersey competition one year, as well as third in Paris-Roubaix and Liège-Bastogne-Liège.
Simon Yates is the biggest recent mover in the list thanks to his strong showing at the 2018 Giro d'Italia, victory overall at the 2018 Vuelta a España. Yates wore the maglia rosa of the Giro race leader for 13 days, taking three stage wins while wearing it. He ceded to another rider on this list, number one Chris Froome, after fading on the penultimate mountain stage of the race. Yates also wore the red leader's jersey of the Vuelta for a total of 11 days and won a single stage en route to his first overall Grand Tour victory.
Simon's twin brother Adam Yates also occupies a spot in the list in 12th, thanks to his fourth overall at the 2016 Tour de France and stage victories in the Critérium du Dauphiné and Tirreno-Adriatico.
Michael Wright, who was British born but lived most of his life in Belgium, is usually considered a sprinter and Classics rider, but he was also fifth overall in the 1969 Vuelta a España.
In 12th place is Max Sciandri who switched nationality from Italian to British in the mid-1990s and had a good record in one-day races.
Some may be surprised to see Sean Yates, who was considered to be a domestique, so high, but he had a long career spanning 15 seasons and won some big races. Among his victories were stages of the Tour de France, Vuelta a España and Paris-Nice, as well as the Tour of Belgium's overall title. He was also second at Ghent-Wevelgem, behind Gerrit Solleveld in 1988, and fifth in Paris-Roubaix.
Brian Robinson can be seen as one of the pioneers of British cycling. He went to France and made an impact in the 1950s, paving the way for the Simpson generation to try to make a living in the sport. Robinson was a respected team worker, but he won too, most notably the Dauphiné Libéré in 1961 and a stage in the Tour de France. He was also third in the 1957 Milan-San Remo, at the time a truly jaw-dropping achievement.
Points scoring system
TOUR DE FRANCE
Overall top 20 score: 250, 225, 200, 180, 160, 150, 140, 130, 120, 110, 100, 90, 80, 70, 60, 50, 40, 30, 25, 20
Stages, top three score: 50, 10, 5
Final KOM and points competition, top three score: 50, 10, 5
Bonus for each day in leader's jersey: 25
Bonus for completing the Tour, but finishing outside top 20: 10
GIRO D'ITALIA & VUELTA A ESPAÑA
Overall top 15 score: 200, 175, 150, 130, 110, 100, 90, 80, 70, 60, 50, 40, 30, 20, 10
Stages, winner scores: 30
Final KOM and points competition, winner scores: 30
Bonus for each day in leader's jersey: 15
Bonus for completing the race, but finishing outside top 15: 5
CATEGORY A STAGE RACES
Paris-Nice, Critérium du Dauphiné (Dauphiné Libéré), Tour of Switzerland
Overall top five score: 110, 75, 60, 40, 20
Stages, winner scores: 20
CATEGORY B STAGE RACES
Tirreno-Adriatico, Criterium International (defunct), Tour of the Basque Country, Tour de Romandie, Volta a Catalonia, Tour of Germany, Midi Libre (defunct), Tour of Beijing (defunct), Tour Down Under, Tour of Poland
Overall top three score: 60, 40, 20
Stages, winner scores: 15
CATEGORY C STAGE RACES
Tour of California, Four Days of Dunkirk, BinckBank Tour, Tour of Belgium, Tour of Portugal, Tour of Oman, Bayern Rundfahrt (defunct), Tour of Britain (2014 on), Abu Dhabi Tour (2017 on)
Overall, top three score: 40, 20, 10
Stages, winner scores: 10
CATEGORY D STAGE RACES
All other stage races
Overall, winner scores: 10
Stages, winner scores: 5
WORLD CHAMPIONSHIPS, OLYMPIC GAMES, MONUMENTS
World Championship road race and time trial, elite era Olympic Games road race and time trial (1996-present), Milan-San Remo, Tour of Flanders, Paris-Roubaix, Liège-Bastogne-Liège, Il Lombardia
Top 15 score: 200, 150, 100, 90, 80, 70, 60, 50, 40, 30, 25, 20, 15, 10, 5
CATEGORY A ONE-DAY RACES
Ghent-Wevelgem, Amstel Gold Race, Flèche Wallonne, Paris-Tours
Top 10 score: 110, 75, 60, 50, 40, 30, 25, 15, 10, 5
CATEGORY B ONE-DAY RACES
Omloop Het Nieuwsblad, Vattenfalls Cyclassics, San Sebastian Classic, GP Plouay, E3 Harelbeke, Grand Prix Cycliste de Québec, Grand Prix Cycliste de Montréal, Strade Bianche, British World Cup (defunct), GP Americas (defunct), GP des Nations (defunct)
Top three score: 60, 40, 20
CATEGORY C ONE-DAY RACES
Including Scheldeprijs, Henninger Turm, Giro del Lazio, Paris-Brussels, Milan-Turin
Top three score: 40, 20, 10
CATEGORY D ONE-DAY RACES
All other one-day races, including British National RR and TT Championships
Winner scores: 10
Thank you for reading 20 articles this month* Join now for unlimited access
Enjoy your first month for just £1 / $1 / €1
*Read 5 free articles per month without a subscription
Join now for unlimited access
Try first month for just £1 / $1 / €1