Levi Moody recovering after collapsing at Belgian race
Haribo-Beacon rider Levi Moody suffered cardiac arrest after prologue of Ster van Zuid Limberg - Will return to St James Hospital in Leeds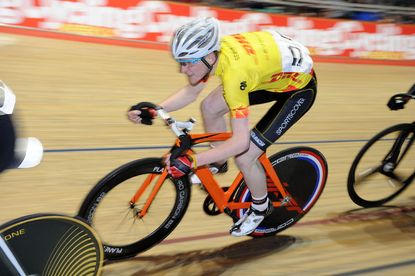 Eighteen-year-old British rider Levi Moody is recovering in hospital after suffering from a cardiac arrest as he warmed down after the prologue of the junior Ster van Zuid Limberg in Belgium on Saturday.
Moody was given cardiopulmonary resuscitation (CPR) at the scene and was later resuscitated by defibrillator in an ambulance, according to his Haribo-Beacon team.
Moody's family have travelled to Belgium to be with him in hospital, and he is due to return to St James Hospital in Leeds next week.
"We would like to extend sincere thanks to acting Haribo-Beacon DS, Matt Jones and the race medics who acted quickly in the situation to provide emergency CPR," said the team in a statement. "And also the race organisation have also been extremely supportive of the team competing overseas. Levi is know fully conscious and extends his appreciation for the messages of support received."
Moody is a former winner of the Revolution Future Stars track competition and British scratch race champion.
Thank you for reading 5 articles this month* Join now for unlimited access
Enjoy your first month for just £1 / $1 / €1
*Read 5 free articles per month without a subscription
Join now for unlimited access
Try first month for just £1 / $1 / €1