London road circuits team up for Condor Cycles London 3-day
VeloPark, Hillingdon and CycloPark cycle circuits will team up for the Condor Cycles 3-day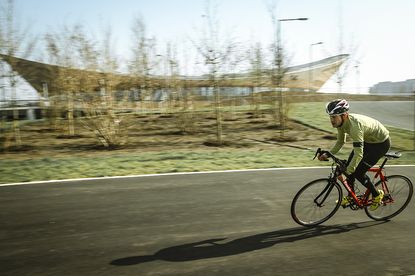 (Image credit: Andy Waterman)
Organisers and management of the new Lee Valley VeloPark, Kent CycloPark and Hillingdon's cycle circuit will team up to create a innovative three-day stage race held only on closed road circuits.
Organisers Stuart Benstead of Hillingdon and Jez Cox of VeloPark who conceived the original idea hope that with an increase in closed cycle circuits around the country, along with a growing number of British Cycling racing licence holders that this concept can show others it is possible to link up.
"More and more circuits are opening around the country and the Condor Cycles London three-day will provide an example of how others can link up and provide a wider experience of different terrain and challenges."
The event will be aimed at road racings biggest group of cyclists which Cox and Benstead suggest is second and third category riders.
Both have also seen closed circuit racing over take open road races in terms of numbers. "We have observed in recent years the huge growth in closed circuit racing which in numbers is now bigger than open road racing. The increase in BC membership, including race licenses, is bringing into the sport newcomers who welcome the opportunity of high speed racing in traffic free conditions."
The event, which is nearing the budgeted numbers, operating on a first-come, first-served basis will see riders fighting for a £1,100 prize pot on the 3, 4 and 5 of May this year.
Entries and further details can be found at British Cycling's website.
Good Friday track event leaves Herne Hill Velodrome for Lee Valley VeloPark after 110 years
The Lee Valley Velopark opens to the public this weekend, bringing all four Olympic cycling disciplines together in one place.
Scale of Kent's £9.7m new activity site evident in new aerial photograph
Mayor of Hillingdon, Cllr David Yarrow, praised the state of the art facilities
Thank you for reading 10 articles this month* Join now for unlimited access
Enjoy your first month for just £1 / $1 / €1
*Read 5 free articles per month without a subscription
Join now for unlimited access
Try first month for just £1 / $1 / €1
Symon Lewis joined Cycling Weekly as an Editorial Assistant in 2010, he went on to become a Tech Writer in 2014 before being promoted to Tech Editor in 2015 before taking on a role managing Video and Tech in 2019. Lewis discovered cycling via Herne Hill Velodrome, where he was renowned for his prolific performances, and spent two years as a coach at the South London velodrome.