London Velodrome to host round of Revolution track series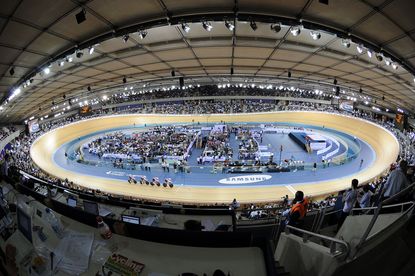 Top-level racing will return to the boards of London Velodrome for the first time since the 2012 Olympic and Paralympic Games when the Revolution Track Series pays a visit in March 2014.
Face Partnership, organiser of the Revolution Track Series, has confirmed the five dates that will comprise the 2013/2014 Revolution Series, including rounds in Manchester and Glasgow as well as the finale in the London Lee Valley VeloPark on March 15 2014.
"We're thrilled that the grand finale of the Revolution Series will be held at Lee Valley VeloPark," said Shaun Dawson, Chief Executive of Lee Valley Regional Park Authority.
"This will be the first major event taking place at the London 2012 Velodrome after the unforgettable Olympic and Paralympic Games... Our first major post-Games event will bring that magic back to this world-class legacy venue again."
REVOLUTION SERIES SEASON 11 DATES:
Round 1: 26th October - National Cycling Centre, Manchester
Round 2: 30th November - Sir Chris Hoy Velodrome, Glasgow
Round 3: 4th January 2014 - National Cycling Centre, Manchester
Round 4: 1st February - National Cycling Centre, Manchester
Round 5: 15th March 2014 - Lee Valley VeloPark, London
Registration for tickets has now opened via the Revolution website. Tickets will then be on sale from the end of July. British Cycling members and previous Revolution spectators will be given priority when the tickets go on sale.
External link
Thank you for reading 5 articles this month* Join now for unlimited access
Enjoy your first month for just £1 / $1 / €1
*Read 5 free articles per month without a subscription
Join now for unlimited access
Try first month for just £1 / $1 / €1