Tour de Yorkshire rider turns up just 15 minutes before the race start
Visa problems and flight delays means MTN-Qhubeka rider Merhawi Kudus arrived in Bridlington for stage one of the Tour de Yorkshire with just minutes to spare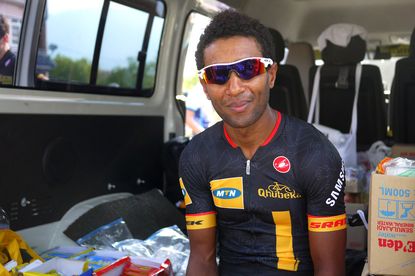 (Image credit: Gregor Brown)
Getting changed in the back of a car and arriving at the start town just 15 minutes before the event is due to roll out isn't exactly perfect preparation before a bike race.
Yet that's exactly what happened to MTN-Qhubeka's Eritrean rider Merhawi Kudus, who only arrived in Bridlington for stage one of the Tour de Yorkshire just before it left for Scarborough.
"I only got the visa one day before the race, so getting that was a little bit stressful," Kudus, 21, told Cycling Weekly. "I got to the start 15 minutes before the race left; I had breakfast in the airport coffee shop and everything. It was quite hectic."
Kudus' directeur sportif, Jens Zemke, explained that his rider's application for a visa had presented them with considerable problems. Having had his initial application refused, Kudus flew from Liege-Bastogne-Liege on April 26 to the British embassy in Rome to apply for a new one.
With a little help from Welcome to Yorkshire, his second visa application was stamped and signed off in the UK but in order for him to get it - and not ruin the team's existing logistical plans - Kudus had to meet someone from MTN-Qhubeka in Amsterdam who was bringing the visa from London.
This he did, but in doing so he missed his Thursday connection from Amsterdam to Manchester airport. He then travelled with team staff to Dusseldorf to catch a flight the following day, on the morning of the race. This was then delayed by over an hour, leaving him little wriggle room to get across the country to Bridlington in time.
"I went home to Manchester the night before, made him his breakfast and went to pick him up," said MTN soigneur James Mansfield, who drove Kudus from Manchester airport to Bridlington. "He wasn't getting stressed at all, though in the car we had European time on the dash; I knew we were going OK but he kept looking at the clock and thinking we only had ten minutes."
Fortunately Mansfield brought his rider some healthy porridge with flax seeds, berries and bananas to supplement the airport coffee shop sandwich. Taking just ten minutes to sign on, attach his race number and load up with food for the race, Kudus rode a fantastic opening stage to finish 13th in Scarborough. He later ended 37th overall.
"It was very stressful start, a really tough day in the race and I was nervous from the morning. I didn't really relax at all on the race," Kudus added.
"After the massage and dinner that night I was straight to bed and straight out of it, I slept about nine or ten hours. That's not much more than normal for me, but I slept very well!"
Thank you for reading 20 articles this month* Join now for unlimited access
Enjoy your first month for just £1 / $1 / €1
*Read 5 free articles per month without a subscription
Join now for unlimited access
Try first month for just £1 / $1 / €1