2011 Giro d'Italia jerseys unveiled in Milan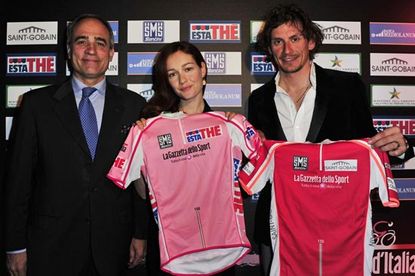 Italian actress Cristiana Capotondi helped to unveil this year's Giro d'Italia classification leaders' jerseys at a launch event at the Martini Bar in Milan on Tuesday night.
The most notable difference over previous editions of the jerseys is the inclusion of a tricolore strip on the neck and running up the front with '150' at the top - this signifies the 150th anniversary of Italy's national unification.
Giro organiser RCS Sport also announced that a new classification jersey will be awarded at this year's Giro - a tricolore design which will be awarded to the team that has shown the most 'fair play' during the three-week race.
The 2011 Giro jerseys - with corresponding sponsors - are as follows:
Maglia Rosa Esta The (pink jersey) - overall classification leader
Maglia Verde Banca Mediolanum (green jersey) - mountains classification
Maglia Bianca Ministero dell'Ambiente (white jersey) - best young rider
Maglia Rosso Passione Saint Gobain (red jersey) - points classification
Maglia Tricolore (green, white, red jersey) - 'Fair Play' team
All of this year's jerseys were designed by Jonny Mole.
The 94th Giro d'Italia starts in Turin with a team time trial on May 7 2011 and finishes in Milan on May 29. Capotondi will officially start the race in Turin.
Related links
Giro goes one up on Tour with spectacular 2011 route
2011 Giro to visit Finestre climb then Alpe d'Huez in 2012
2011 Giro d'Italia to start in Turin with team time trial
Thank you for reading 5 articles this month* Join now for unlimited access
Enjoy your first month for just £1 / $1 / €1
*Read 5 free articles per month without a subscription
Join now for unlimited access
Try first month for just £1 / $1 / €1