Aru will be biggest loser in Giro d'Italia time trial, say rival team bosses
Alberto Contador, Fabio Aru, Rigoberto Uran and Richie Porte face off against the clock tomorrow, here's what their bosses think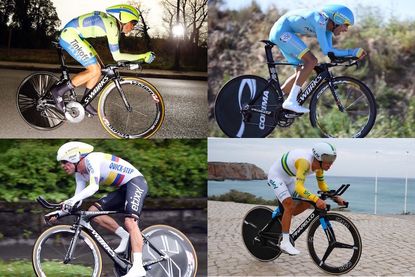 The Giro d'Italia, after several shifts and crashes, heads down the road to Treviso for the start of Saturday's long 59.4-kilometre time trail to Valdobbiadene.
Barring any major problems that could arise overnight from the crashes, the big teams lean towards Alberto Contador taking advantage and new race leader, Fabio Aru, losing time.
It will be the longest time trial at the Giro since 2009, when the race had a 61.7-kilometre stage, and will surely cause more splits between the Giro's stars. Italian Fabio Aru (Astana) currently sits on top of the classification,
Alberto Contador (Tinkoff-Saxo) at 19 seconds, Rigoberto Urán (Etixx-Quick Step) at 2-02 minutes and Richie Porte (Sky) at 5-05.
Cycling Weekly asked the teams' top brass what could happen in the stage to Valdobbiandene.
Steven De Jongh, Tinkoff-Saxo sports director
"Alberto's previewed it twice, he'll do it again in the morning tomorrow. The climbs at the end are not serious ones, you don't have to think about switching to a normal bike.
"It's good for Alberto that this time trial comes after 13 stages because his recovery is always very good. He can't use his position like he used to, but he's confident he should do well. He has to move his arms a little out, but that's the way it is. We're lucky he's still here in the race.*
"If Richie has a good day, he can take some time back, but with a rainy time trial, if things go well, Alberto can control his place. Porte, Urán and Alberto will challenge each other, and Aru will lose time. Seeing Aru the last few days, he has to worry the most."
*Contador had to ice his left calf after a crash in stage 13 today.
>>> Alberto Contador adjusts position ahead of crucial Giro d'Italia time trial
Giuseppe Martinelli, Astana team manager
"It's Fabio's longest time trial yet. He did the Saltara time trial in 2013, which went pretty well [lost 2-44 minutes - ed.]. He's previewed it once and worked on his time trialling quite a bit.
"You can lose a lot in the final, more than the flat part leading up. He told me, 'I've known since the start of the Giro that this time trial – with respect to Contador, Urán and Porte – I can lose time.' I think that he will lose less time than what many think.
"Given the bad day to Imola and the sugar bonk yesterday, I still think he's OK and we won't have problems. The time trial tomorrow won't be influenced by those days."
>>> Dr. Hutch's guide to the Giro d'Italia time trial (video)
Patrick Lefevere, Etixx-Quick-Step general manager
"We hope that Rigoberto can repeat what he did last year in Barolo and win. It's a completely different parcours, though. The final is tough, where the time trial last year was tough from start to finish.
"Rigo had a good Tour de Romandie, but then the last days were rainy and cold, he got a cold. He had bronchitis. He lost time, he crashed in Imola, but you can see that he has good legs now.
"He has to recover time to the guys in front of him and then see where we are afterwards. I think the podium is possible for him in Milan. In his last time trials, he's done well, so he's confident, and he's trained for the distance.
"Is he the best of the four? It's difficult to say, this Giro's been very tough, they stared like fools, riding every day like it was a one-day race. A lot of guys are tired."
David Brailsford, Sky team principal
"Pacing will be key. Some riders will be tempted to go too hard in the flat and if they do that, they will pay the price in the second half.
"It'll be interesting to see who has the physical capability, but who also masters the pacing strategy the best. With all time trials, the real stars are absolutely amazing at pacing, that's the difference.
"A time trial like this calls for experience. Richie has that. He's represented Australia a few times in championships, he's Australian champion... Rigo's upped his time trial, the longer the better for him. Alberto has stacks of experience, he'll know how to do it.
"Can Richie can pull back time? You can't call it, for now he just has to focus on the best he can be."
Porte crashed and hurt his knee in Friday's crash.
Favourites against the clock this year
Alberto Contador (Tinkoff-Saxo)
Feb. 2: Ruta del Sol, stage 1b – 4th – 8.2km at 6s to Javier Moreno
Mar 11: Tirreno-Adriatico prologue – 67th – 5.4km at 19s to Adriano Malori
Mar 17: Tirreno-Adriatico stage 7 – 16th – 10km at 32s to Fabian Cancellara
Fabio Aru (Astana)
Mar 15: Paris-Nice – stage 7 – 38th – 9.6km at 1m 55s to Richie Porte
Rigoberto Urán (Etixx-Quick-Step)
Feb. 7: Colombian championships – 1st – 40.6km in 51m 20s
Mar. 11: Tirreno-Adriatico prologue – 19th – 5.4km at 10s to Adriano Malori
Mar.17: Tirreno-Adriatico stage 7 – 26th – 10km at 38s to Fabian Cancellara
May 3: Tour de Romandie stage 6 – 11th – 17.3km at 32s to Tony Martin
Richie Porte (Team Sky)
Jan 1: Australian championships – 1st – 40.9km in 51m 50s
Feb 2: Volta ao Algarve – 19th – 19km at 1m 03s to Tony Martin
Mar 15: Paris-Nice stage 7 up Col d'Eze – 1st - 9.6km in 20m 23s
Dr Hutch talks us through the Giro d'Italia time trial
Thank you for reading 20 articles this month* Join now for unlimited access
Enjoy your first month for just £1 / $1 / €1
*Read 5 free articles per month without a subscription
Join now for unlimited access
Try first month for just £1 / $1 / €1