Contador 'only taking ibuprofen' for Giro shoulder injury
Tinkoff-Saxo's team doctor explains more about how Alberto Contador is coping with his shoulder injury after crashing on stage six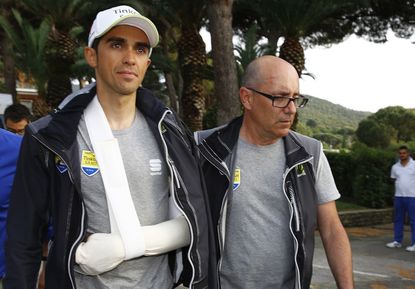 (Image credit: Watson)
Alberto Contador only needs Ibuprofen and extra care for his shoulder injury suffered on Thursday in the Giro d'Italia, according to his Tinkoff-Saxo team.
He leads the race despite falling in the final 250 metres of stage six in Castiglione della Pescaia. Fabio Aru (Astana) sits second at four seconds and Sky's Richie Porte third at 22 seconds.
Tinkoff's doctor, Piet de Moor said that he would not give Contador Tramadol, a controversial painkiller that is permitted under UCI rules, and gave a 'no comment' on TUEs unrelated to the injury.
TUEs, or therapeutic use exemptions, are given when a rider is permitted to use a restricted substance or method to treat a legitimate medical condition.
"No, at the moment nothing [he doesn't need any medicine]. An anti-inflammatory is possible, like Ibuprofen, but nothing special," Doctor de Moor told Cycling Weekly.
"Tramadol is just a painkiller, he would be a lot better with an anti-inflammatory. Tramadol only works in the brain to bring down the pain, that's not a solution.
"People have been saying [to ban it] for a long time, I don't know why it's not on the list yet. I don't recommend it to any rider, most of the peloton is thinking like this. It's a strong painkiller and you always have side effects."
Teams have urged the World Anti-Doping Agency (WADA) to include Tramadol on its banned list, but it is not there yet.
Former Team Sky rider, Canadian Michael Barry made headlines when he said he used the painkiller while riding for the team in 2010. Other teams said the use was widespread and caused crashes in the peloton.
"Tramadol made me feel euphoric, but it's also hard to focus," Barry told the Times. "It kills the pain in your legs, and you can push really hard."
Sky said at the time of Barry's comment that it does not give the drug to its riders.
Tinkoff-Saxo, however, would not come clean on the thorny subject of TUEs. De Moor, in the heat of the morning sun in Italy's south today, explained that Contador would not need one for his shoulder injury, but did not go further when asked about using a TUE for other reasons.
"We are talking about the shoulder. I don't comment on this," de Moor said.
"[TUEs are only] if you need some special treatment, if Alberto needs injections, or some special pills, then you need to ask for a TUE, a lot of the other things is just a declaration, if you have an allergy or whatever."
Asked again about Contador using TUEs, he said, "I'm not going to comment on this."
Contador, who served a doping ban that saw him stripped of his 2010 Tour de France and 2011 Giro d'Italia titles, draws extra scrutiny.
Chris Froome was pressed on TUEs while on his way to winning the 2013 Tour de France, he said they are "rather personal" and that he did not have any. He came under fire last year when it was revealed that he asked for a steroid TUE for a chest infection ahead of the Tour de Romandie.
TUEs have been abused by some riders in the past as a legal way to dope. The UCI recognised that it needs to work with WADA to tighten the procedures to receive an exception.
Contador kept his lead in the race despite falling in stage six. In yesterday's summit finish to Campitello Matese, he appeared at ease and as his usual 'El Pistolero' self.
De Moore explained that Contador cannot lift his left arm above 90 degrees and could have a problem in the 59.4-kilometre time trial next Saturday.
"During the night, it is immobilised, and then during the stage, he has it wrapped in tape," he added.
"He is professional, and he did so much work to get here, so he's not going to stop like this. Of course, it would have been better without this, that's for sure."
Thank you for reading 20 articles this month* Join now for unlimited access
Enjoy your first month for just £1 / $1 / €1
*Read 5 free articles per month without a subscription
Join now for unlimited access
Try first month for just £1 / $1 / €1