Bomb found in Dublin during Giro d'Italia's final Irish stage
Police disarm 'massive' bomb in Dublin on final day of Giro d'Italia's visit to Ireland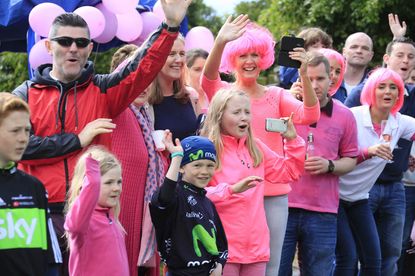 (Image credit: Watson)
A huge bomb was disarmed by police in Dublin on the final day of the Giro d'Italia's visit to Ireland.
The Irish Independent newspaper reports that the bomb was located in the car park of Finnstown Country House hotel, Lucan, and was armed and ready to detonate.
"This was a deadly, full-size bomb which had been wired up and ready for imminent use. If it had gone off it would have caused total devastation," a source told the Irish Independent.
Although it is not clear whether the bomb was intended to target the Giro, its proximity to the race where hundreds of thousands of spectators were in attendance has raised concern.
The device, contained in a milk churn and with 50lb of fertiliser explosive, was made safe by an Army Bomb Squad. A man with links to the Real IRA was later arrested in connection with the incident.
After three days in Ireland, the Giro d'Italia now heads to Italy during the race's first rest day on Monday.
German sprinter Marcel Kittel edges out Ben Swift to take his second consecutive stage win
Thank you for reading 5 articles this month* Join now for unlimited access
Enjoy your first month for just £1 / $1 / €1
*Read 5 free articles per month without a subscription
Join now for unlimited access
Try first month for just £1 / $1 / €1