Evans to ride Giro d'Italia in 2010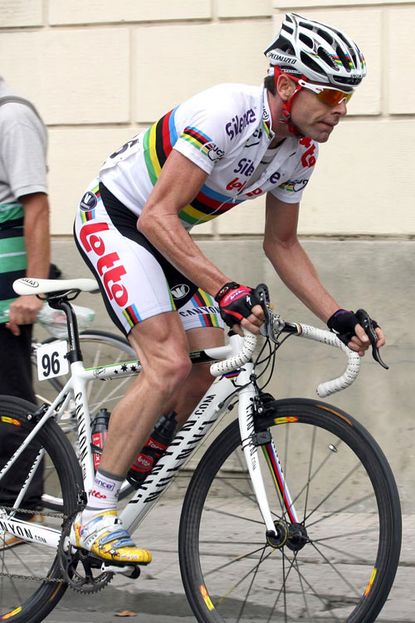 World champion Cadel Evans has revealed he will ride the Giro d'Italia in 2010 with his new BMC team.
Speaking to Gazzetta dello Sport and showing his BMC world champion's jersey for the first time, the 32 year-old Australian confirmed that he would be back at the Giro for the first time since he wore the pink jersey for a day in 2002.
"I'll finally be back at the Giro and will be riding to win it. Ever since then (2002) I've wanted to ride it again. It's the race that I made my name in and everybody knows how much I'm linked to Italy," Evans said, referring to his wife Italian Chiara and the fact that he lives just over the border in Switzerland.
"I remember wearing the maglia rosa for a day. It was an honour and I can remember the passion and knowledge of the Italian tifosi. I've always regretted losing it so soon."
"In the last few years I've focused more on the Tour de France but I think I can ride two major stage races at a high level. I've already done it. (In 2007) I was second at the Tour de France and fourth at the Vuelta. This year I was third in Spain and messed up at the Tour but you learn from your mistakes. (In 2010) I want to focus more on the first part of the season."
Gazzetta pointed out that Evans would be the first world champion to target overall success in the Giro d'Italia since Italian legend Giuseppe Saronni in 1983.
"It'd be nice. The last (stage race) world champions were perhaps LeMond, Bugno and Olano. Seeing the rainbow jersey at the front in the big mountains will be great for the fans."
Tour Down Under debut with BMC
Evans posed with a red BMC bike equipped with Campagnolo components and Easton wheels, with his new sponsor in big letters above his rainbow jersey. He was wearing bright red socks and his new black and green Diadora shoes.
He confirmed he will make his 2010 debut at the Tour Down Under before riding the GP Insubria on February 27 near his Swiss home and then Tirreno-Adriatico.
Meeting the Dalai Lama
Evans is currently training at home in Barwon Heads near Melbourne but recently travelled to Tasmania to meet the Dalai Lama, describing it as a dream come true.
"He's a peaceful man but also very funny who likes to joke. He doesn't only speak about Buddhism or religion but about everything," Evans told Gazzetta.
"He told me about the little things we can all do improve the world. As an example he showed photographs of me wearing a Free Tibet t-shirt during the Tour de France. It was an emotional moment for me."
2010 Giro d'Italia coverage in association with Zipvit
Thank you for reading 20 articles this month* Join now for unlimited access
Enjoy your first month for just £1 / $1 / €1
*Read 5 free articles per month without a subscription
Join now for unlimited access
Try first month for just £1 / $1 / €1