Geraint Thomas narrowly misses out on Giro lead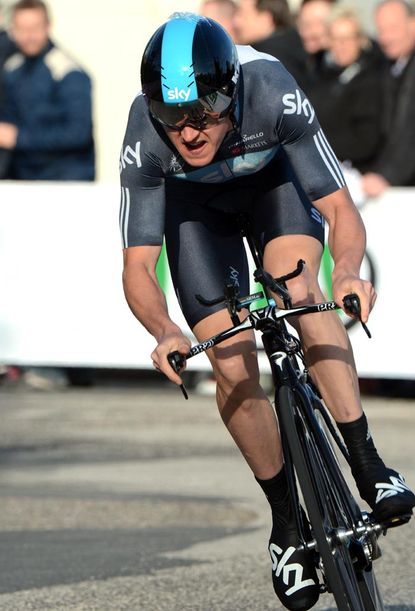 Geraint Thomas has World and Olympic gold medals, but was unable to add a pink jersey to his collection. He narrowly missed winning the opening stage of the Giro d'Italia on Saturday in Herning, Denmark, finishing only nine seconds off winner Taylor Phinney (BMC).
On Twitter, Sky's hope congratulated his American rival. He said that Phinney was "unbeatable".
Thomas powered through the 8.7-kilometre course in the wake of Italian Manuele Boaro (Saxo Bank). Boaro posted the top time at 10-41 minutes, but Thomas setting off only two minutes later, went better at 10-35, six seconds faster.
"Taylor?" Thomas told Cycling Weekly as he dried off. "Hopefully it gets a little bit windy out there. Everyone just blow!"
Phinney, though, posted a time of 10-26, a good nine seconds faster. He was the only rider to ride over 50 kilometres an hour.
His experience may have paid off. He rode the course about 10 times, starting on Thursday. Thomas rode only in the morning before the first rider Jackson Rodriguez (Androni) started.
"I did three times around the technical bit," he continued. "I was reading Taylor's Twitter account, he was telling me all the information I needed. 'Left, left, left. Right, right, right...' But ah, the guys went around it on Friday morning and filmed it. I watched it on the DVD on TV."
Sky, unlike BMC Racing, was not based in Herning. Its hotel was 30 kilometres down the road in Silkeborg. In Herning today, Thomas found wind and cold temperatures.
"It was really windy out there, I really tried to hold back in the first bit. I tried not to go too deep in the corners, and then just opened that tap and emptied the tank to the line. I'm pretty happy with that time," Thomas explained.
Asked if he made a few errors, he responded, "In a few corners, I went into them and braked a bit too much. I was like, 'Ah s**t.' Two corners, maybe just a bit, but you can't put [a number of] seconds on it. Overall, though, I can't be disappointed with that."
On Sunday, Thomas will turn his attention to helping Sky team-mate Mark Cavendish win the first sprint stage. The world champion was 47 slower than Phinney but could make up some of that time with the 20, 12 and eight second time bonuses on the finish line over the next two days.
If Cavendish, or even Thomas, reduce the time between themselves and the American, the pink jersey will be up for grabs in Wednesday's team time trial around Verona.
Giro d'Italia 2012: Related links
Stage one: Phinney wins opening TT
Giro d'Italia 2012: Coverage index
Giro d'Italia 2012: Latest news
Cavendish faces first Grand Tour as World Champ and father
Frank Schleck's last minute Giro adventure
Swift out of Giro after training crash
Giro d'Italia 2012: Who will win?
Sky to battle for Giro's team time trial
Hesjedal aims for Giro win
Giro d'Italia 2012: Start list
Cavendish, Thomas, Kennaugh, Swift and Stannard for Giro
Giro d'Italia 2012: Jerseys unveiled
Giro d'Italia organiser announces wildcard teams for 2012
Giro d'Italia 2012 route revealed
Giro d'Italia 2012: Live coverage
Giro d'Italia 2012 live text coverage schedule
Giro d'Italia 2012: Teams and riders
Giro d'Italia 2012 start list
Giro d'Italia 2012: TV guide
Giro d'Italia 2012: British Eurosport TV schedule
Related links
Giro d'Italia 2012: The Big Preview
Cycling Weekly's Giro d'Italia section
Thank you for reading 20 articles this month* Join now for unlimited access
Enjoy your first month for just £1 / $1 / €1
*Read 5 free articles per month without a subscription
Join now for unlimited access
Try first month for just £1 / $1 / €1